20th Anniversary An Evening With Heroes Gala: Tickets are now on sale!
New Executive Director joins Heroes Foundation.
Spin4Heroes registration is now open.
Catherine Peachey Fund wrapping up 25th anniversary celebration.
Shop for a Cause with our friends at vineyard vines.
1. TABLE SPONSORSHIPS AND TICKETS ARE NOW ON SALE! Our 20th annual An Evening With Heroes Gala kicks off the Heroes Foundation's 20th Anniversary Year
The date for our An Evening With Heroes Gala celebration is set – January 18, 2020 at the JW Marriott Indianapolis. Join us for cocktails, dinner, and dancing to the music of "The Impalas" — all while we celebrate twenty years of fighting cancer, and raise funds to kick off the next twenty years! Click here to purchase your tickets! Make a night of it and stay overnight — a limited number of rooms have been reserved at a special rate for our guests. More information about hotel accommodations can be found here. We hope you will join us for this very special evening! 

2. HEROES FOUNDATION WELCOMES NEW EXECUTIVE DIRECTOR
The Heroes Foundation has hired a new executive director to help the organization fulfill its mission and continue to grow its reach in the community as it heads into its 20th anniversary year. 
Bringing both non-profit and for-profit experience, Kelly Smith joined the staff in November, 2019. Smith was most recently Development Manager for several northwest Indiana counties for Junior Achievement of Northern Indiana, Inc.  
"As we head into our 20th year, the vision for how the Heroes Foundation can make further impact on the Indiana Cancer Community hasn't diminished in any way. In fact, it may burn brighter knowing that we have so much untapped potential. This hire better positions the foundation for long-term growth and greater impact," said Vince Todd, Jr., Heroes Foundation Chairman and Co-Founder.
Kelly can be reached at ksmith@heroesfoundation.org
3. GEAR UP FOR OUR 10TH ANNIVERSARY SPIN4HEROES, powered by ROCHE
REGISTRATION IS NOW LIVE! The onsite, relay-team spin cycling event is scheduled for Sunday, March 8, 2020, at the Indiana Farm Bureau Football Center (Indianapolis Colts Practice Facility) from Noon to 4 pm. The remote, individual fitness event runs Jan 1-Mar 8, 2020, allowing you to select your activity, at your own pace!  
Philanthropy is driven by physical fitness and fun through our annual Spin4Heroes event, focused on promoting cancer prevention through exercise and healthy lifestyle choices. Whether on site or remotely, participants can be a part of the event individually or as a member of a corporate or personal team when they participate in this unique cycling/spinning/fitness event. The goal? To raise crucial funds to support the Indiana cancer community. All of the information you need is right here at heroes foundation.org/Spin2020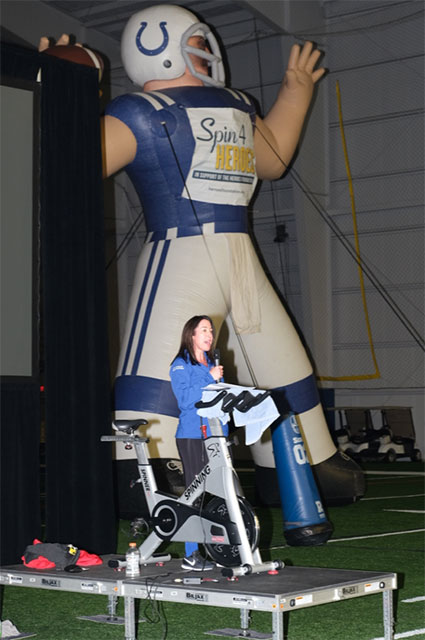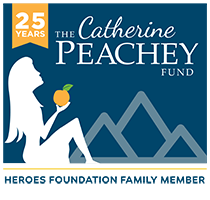 4. The Catherine Peachey Fund embarks upon its next 25 years
Throughout 2019, we have been celebrating 25 years of The Catherine Peachey Fund's unwavering commitment to fund breast cancer research initiatives! The Peachey Fund is passionate about supporting researchers in Indiana who think creatively and challenge the status quo of breast cancer treatments. Since 1994, The Catherine Peachey Fund has provided approximately $3 million to further breast cancer innovations and research. A sincere thank you to all of the donors, sponsors, supporters, volunteers and friends who work tirelessly to support the initiatives of the Peachey Fund. To honor the Catherine Peachey Fund with a donation, please click here. Here's to the next 25 years! 
5. SHOP FOR A CAUSE WITH VINEYARD VINES! Thursday, December 5, 11 am to 1 pm
Take a lunch break at vineyard vines in support of the Heroes Foundation! Shop their Fashion Mall location at Keystone Crossing, save 10% off your purchases and they will give 10% back to the Heroes Foundation! Perfect timing for holiday shopping and helping us beat cancer!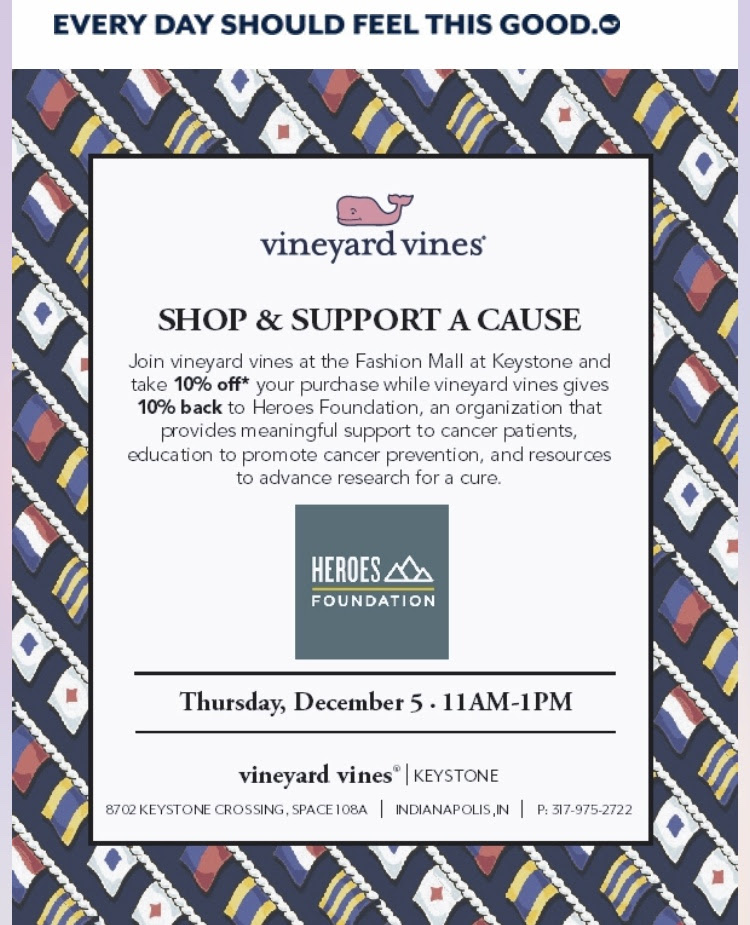 Our Team JOEY Program brings much needed distraction to pediatric cancer patients in central Indiana receiving in-patient treatment. A gift of $50 will help underwrite a hospital visit to the littlest cancer warriors. Will you help? Thank you.