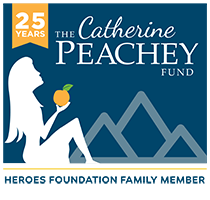 The mission of the Catherine Peachey Fund is to promote advances in breast cancer research and treatment. We provide financial support to research and programs that we believe are best positioned to move from the bench to the clinic.
We are passionate about supporting researchers in Indiana who think creatively and challenge the status quo of breast cancer treatments. Since 1994, The Catherine Peachey Fund has provided nearly $3 million to further breast cancer innovations and research. An efficient grant approval process allow us to rapidly respond to unique funding requests and maximize available dollars for research.
Peachey Effect: July-December 2020
In Our 26th Year Impacting Breast Cancer Research
Despite the challenges of COVID-19, read how the Catherine Peachey Fund team continues to advance our mission.
Where the Money Goes.
Let us show you exactly where your contributions to the Catherine Peachey Fund go. This is where you, as a donor, have made a difference. To date, total Peachey Fund grants: $3.2M.
Breast Cancer Breakthroughs Can Start 

With

 You

.
We can't make a difference without generous donors. 
Order "Just Peachey: Bearing Fruit"
The original Just Peachey: Cooking Up a Cure cookbook sold 57,000 copies. It became the vehicle by which we first raised awareness of our organization. We continue this tradition with Just Peachey: Bearing Fruit, the latest edition of the cookbook. 100% of the sale price will be granted to breast cancer research in Indiana.
Remembering Catherine Peachey

.
The Catherine Peachey Fund Inc. was established in memory of Cathy Peachey, one of the founders of the Indiana Breast Cancer Coalition. Cathy helped lead the way for the Off-Label Drug Bill, which now guarantees access to non-FDA-approved anticancer drugs.
Cathy was never satisfied with the status quo. Today, we continue her fight by offering support to programs and individuals on the leading edge of breast cancer research.
Donate to the Heroes Foundation
Today

.