Komen Tissue Bank collecting breast tissue from men on June 10
By Candace Gwaltney, Science Writer for the Indiana University Melvin and Bren Simon Comprehensive Cancer Center
A breast cancer diagnosis is difficult for anyone, but it can be particularly isolating for the thousands of men who face it each year. In the United States, about one in every 100 breast cancers diagnosed are in men and 500 men die of breast cancer yearly.
Researchers at the Indiana University Melvin and Bren Simon Comprehensive Cancer Center know that male breast cancer behaves and develops differently than that in women, and they are now working to discover more about the disease—thanks in part to Matthew Bowman.
The Vincennes, Ind., man became an advocate for male breast cancer awareness after his diagnosis in January 2017. The work came naturally to Bowman as he was already deeply involved in his southern Indiana community as a lieutenant for the Vincennes Township Volunteer Fire Department and nearly a 30-year employee at Good Samaritan Hospital in Vincennes, where he was a registered nurse.
When Bowman was diagnosed, he traveled to Indianapolis to see physician-scientist Bryan Schneider, M.D., for a second opinion. Schneider confirmed the treatment plan, so Bowman continued his care at his local cancer treatment center. The meeting led Bowman to enroll in a global study on male breast cancer at the IU Simon Comprehensive Cancer Center.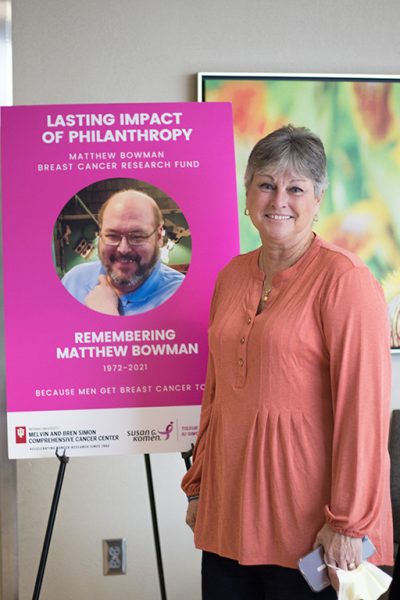 Once he thought he was cancer-free, Bowman was advocating for male breast cancer awareness at health fairs and on local television segments fulfilling his mission. Bowman relapsed in 2021 when a persistent cough turned out to be metastasized cancer to his lungs. He died from the disease at age 49 in September 2021.
With fewer cases, researchers and physicians don't have the same data and resources to understand and treat male breast cancer. And treatments are often the same for men and women – despite their genetic differences. Few understand this impact like Bowman's mother, Pat Buntrock, who is now carrying on his advocacy efforts for more research.
"I wanted to give money to IU specifically for men because there's just not enough attention given to men with breast cancer," Buntrock said. "Also, I wanted to give to IU because I knew that was the place to be for research in Indiana."
A gift from Buntrock established the Matthew Bowman Breast Cancer Research Fund at the IU Simon Comprehensive Cancer Center. Through this fund, Bowman's legacy will allow cancer center researchers to focus on understanding more about male breast cancer.
Additionally, a gift for male breast cancer research from the Heroes Foundation's Catherine Peachey Fund, a longtime supporter of IU breast cancer research, is bolstering efforts for cancer center researchers to begin exploring the disease.
"The Catherine Peachey Fund has been touched by male breast cancer many times in our 28-year history. It is personal for us," said Stephanie Rufenbarger Lesher, program manager of the Catherine Peachey Fund. "We continue to be grateful for the IU breast cancer researchers who push for new information and innovations. The specificity of research done with normal male breast tissue in the Komen Tissue Bank to address male breast cancer will hopefully lead to targeted treatments and therapies that will improve the outcomes for male breast cancer patients."
Learning from normal male breast tissue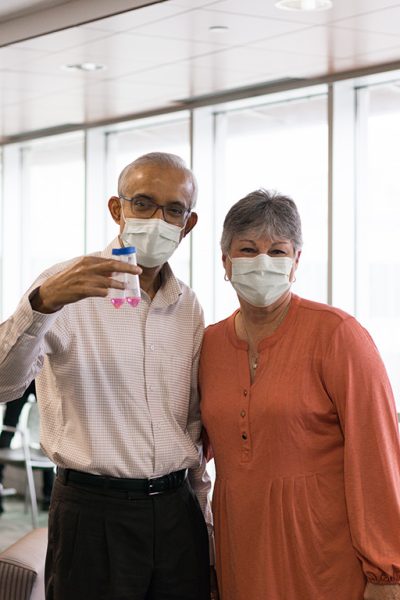 After talking to Dr. Schneider, Buntrock knew the relatively small number of men who are diagnosed with breast cancer can make focused research and clinical studies difficult. She was hopeful, though.
"Dr. Schneider told me in another conversation, 'You know, your contribution has us talking, and we think this is going to have a snowball effect."
That snowball effect started with the gift from the Catherine Peachey Fund. Both contributions have allowed the Komen Tissue Bank at the IU Simon Comprehensive Cancer Center to collect the first normal breast tissue samples from men for research.
A small number of men donated tissue in November 2022 as part of a pilot collection event to see if the collections would even be possible—not all men have enough breast tissue to be able to give.
Now the Komen Tissue Bank, the world's only healthy breast tissue bank, is hosting the first male breast tissue collection event on Saturday, June 10. Up to 30 men will be able to participate, giving researchers around the globe access to an entirely new resource for their work.
Already those first male tissue donors are making an impact on cancer research at IU, said Harikrishna Nakshatri, Ph.D., the Marian J. Morrison professor of breast cancer research at IU School of Medicine and a researcher with the Vera Bradley Foundation Center for Breast Cancer Research at the IU Simon Comprehensive Cancer Center. He is also the Komen Tissue Bank's chief scientific officer.
"We are making very good progress—even more than what I expected—with the samples that we got," he said.
Using the male breast tissue cells from the November event, Nakshatri has built a model that makes healthy breast cells become cancerous. He is doing the same thing with female breast cells concurrently so he can make comparisons. Similar to work done with breast tissues from women, his group is now mapping breast tissues from men at a single-cell level.
The first male normal breast tissue donors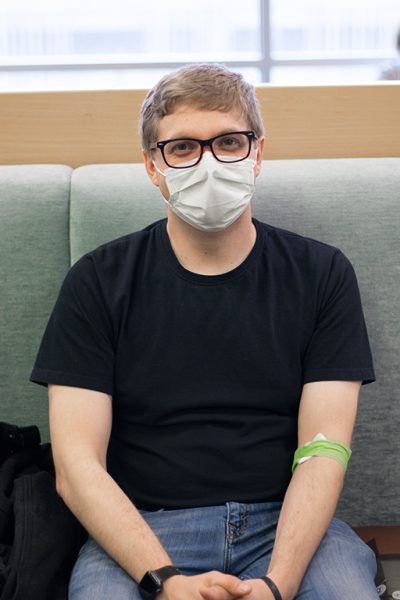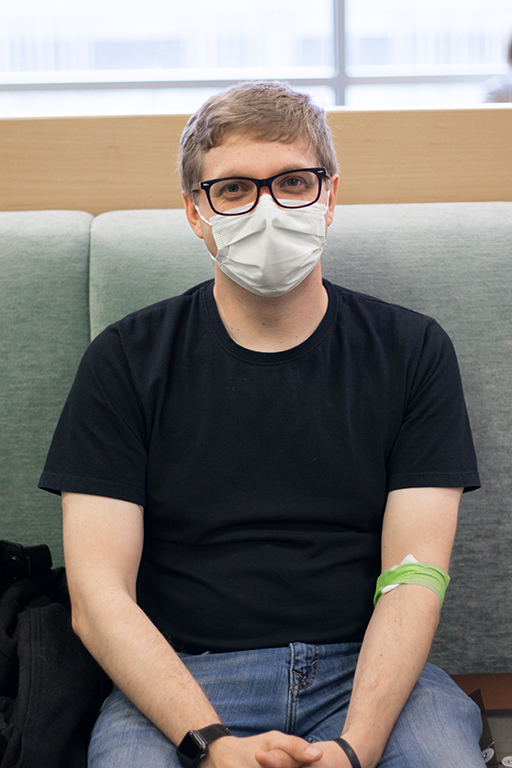 The very first man to donate to the tissue bank was Steven Peachey Jr. While he admits to a little apprehension, he was happily first in line. A dedicated advocate for breast cancer research, Peachey has been involved with The Catherine Peachey Fund—named after his late aunt Cathy—since 2012.
"My way to contribute over the years has been volunteering and raising money for research, so I saw this as a unique opportunity to help out in a different way—it's pretty exciting," he said.
The Indianapolis resident knows his family history of breast cancer puts him at a higher risk, so he is glad to be part of the growing research efforts at the cancer center.
"Male breast cancer is something that just doesn't get much attention, and not as much as it should," Peachey said. I've talked to a few people about this opportunity, and it's one of those 'come on, be a real man and do it' type of thing. Now that men are able to contribute, I tell people this is something small you can give of yourself."
Among the first male donors also was Eric Merriweather, who was familiar with the donation process and the work of the tissue bank. He is a past volunteer at tissue bank donation events and supported his wife, Kathi Ridley-Merriweather, Ph.D., when she donated tissue. Ridley-Merriweather is the communication and minority recruitment coordinator for the tissue bank.
When Merriweather heard the tissue bank would start accepting male tissue donations, he was open to the opportunity to get involved. He said his tissue collection procedure happened quickly and the experience wasn't painful.
"I have four sisters and my mother who are all Black females, so they are definitely in a category that could be drastically affected by breast cancer," Merriweather said. "I know also that men get breast cancer, so it's important for a cure to be found as it pertains to the women in my life and in general. I also know as a man I have a possibility of getting breast cancer, so why sit on the sidelines and not get involved in trying to find a cure."
Unlocking the differences
Donations to the tissue bank are critical puzzle pieces for many researchers. A frequent user of the tissue bank's resources, Nakshatri plans to be among the donors for the June collection event.
Back in the lab, Nakshatri hopes to understand why women and men respond differently to current breast cancer treatments. About 87 percent of breast cancer in men are estrogen receptor-positive (ER-positive), meaning estrogen is fueling the growth of the cancer. Similarly, about 70 percent of breast cancer in women are ER-positive, he said.
"Women respond better than men to ER-targeted therapies, but based on the estrogen receptors, they are the same," Nakshatri said. "Why is that, and what fundamental differences exist? We have started addressing that issue. Our current data says that estrogen receptor works differently in men than in women's breast tissue."
For male breast cancer researchers and advocates, this work is just the beginning. Buntrock recalls her son sharing a story from when he had to have a mammogram. Staff asked who he was waiting for, and he replied, "I'm here for myself." These experiences and Bowman's passion for health care fueled his efforts.
"Matt was really passionate about increasing awareness because most men don't know they can get breast cancer. That was his goal – to make sure men know they can get breast cancer," Buntrock said.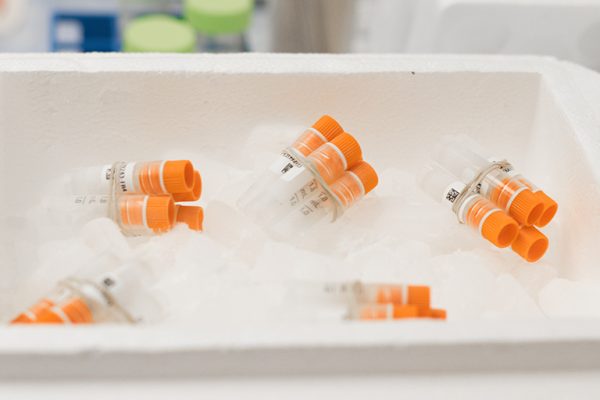 June 10 male breast tissue collection