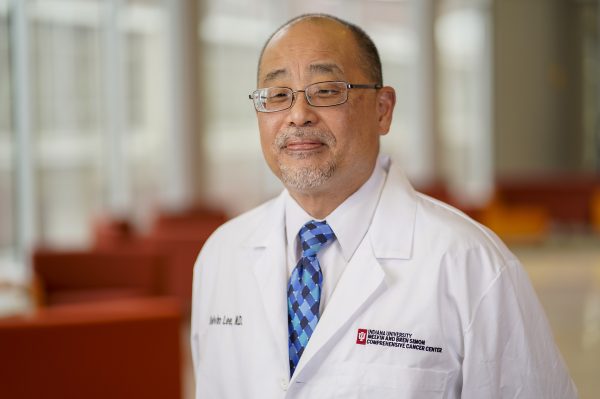 Growing up in Maryland, Dr. Kelvin Lee had his heart set on becoming a marine biologist.
"I ended up doing a summer internship with Dr. Elliott Perlin at the Naval Medical Research Institute. My project was to look at the effect of chemotherapy on immune cell populations and what the effect of chemotherapy was on patients' immune systems," he said.
He found the work fascinating.
"I said, 'Wow. This is really interesting. Maybe I should think about going into medicine.'"
When it was time to apply to college, he targeted schools that offered a combined undergraduate and medical degree in six years, one of them was at the University of Michigan.
"So, one day I go to the mailbox and get this envelope from the University of Michigan which was really, really thin. I open up the letter and it says 'Dear ______,' there's nothing there. It said, 'We are interested in interviewing you for the Inteflex program on ______ date, signed ______.'"
He showed it to his mother and she immediately called and got him an interview date.
"I go and I interview and I get in – and thus starts my medical career."
Six years later, he found out how it really started.
"When I graduated, the counselors all came over and said, 'We couldn't tell you while you were in the program, but now that you've graduated – you weren't supposed to get that letter. You were actually rejected. Somebody accidentally stuck a blank letter in an envelope and sent it to you and your mother so flustered the secretary that she gave you a date. And you did well enough on your interview that we took you."
Some people wouldn't tell that story.
But Dr. Lee isn't one of those people.
Personable, engaging, and down to earth, his work may be serious and life-changing – but he doesn't take himself too seriously.
After 12 years at the Roswell Park Comprehensive Cancer Center in Buffalo, New York, Lee was hired in October as director of the Indiana University Melvin and Bren Simon Comprehensive Cancer Center.
He arrived in Indianapolis in February and his welcome was a bit chilly.
"I'm thinking, 'I'm moving south. This is going to be great,'" he said. "I moved here during the coldest weather that Indianapolis has had in like 20 years."
He was also greeted with near record snowfall.
"I'm here, my family is still back in Buffalo because we feel that moving in the middle of a pandemic is probably a bad idea," he said. "The house that I'm in has a bed, a dresser, a folding table and four folding chairs – that's it. Everything else is back in Buffalo. The snowblower is still back in Buffalo. I had to dig out the entire driveway with a snow shovel, which I haven't done in a very long time."
It wasn't the weather that attracted him to Indianapolis anyway – it was the history, the people, and the bold vision of the IU Simon Comprehensive Cancer Center.
"If you're in the cancer field, you never say, 'We want to cure something.' Because history is littered with failed attempts to cure cancer," he said. "But IU and Simon said, 'We want to cure these three cancers – multiple myeloma, triple negative breast cancer, and pediatric sarcomas.' And I thought, 'Wow. That is quite bold.'"
They can be bold. Because at the IU Simon Comprehensive Cancer Center, curing cancer isn't just something they talk about – it's something they've done.
"Dr. Einhorn took testicular cancer – which was an awful, fatal disease and cured it and was really one of the pioneers in this idea that yes, you can in fact cure cancer – particularly with chemotherapy," he said, "for widely spread cancers that were metastatic, everybody said, 'There is no hope here.' And Dr. Einhorn was one of the very first to demonstrate that yes, we can do this."
It was that kind of determination that pushed Lee to pursue oncology and cancer research himself.
Like most doctors, it was a patient – or in his case, a couple of patients – that inspired him.
It started in medical school when an acute leukemia patient showed up in the middle of the night.
"Back in those days, all you had was a microscope and we're looking at this patient's blood smear and there were all these really odd cells on there. I asked my attending physician, 'What is that?' And he said, 'Well, we don't know.' I thought, 'We don't know? Shouldn't we do better than that?'"
"And several years later I had a patient, she was a young mom and she was having a cesarian section and they saw enlarged lymph nodes when they did the surgery and they biopsied and it came back as lymphoma. She fought this incredibly courageous fight. Shortly after, I think it was her daughter's fourth birthday, she passed away."
He found himself asking the same questions.
"I was thinking, 'Why can't we do better than this? Why are we not curing more people? Why aren't our treatments better?' That's not only why I went into cancer, but also why I went into research. Even now, we don't cure the majority of our patients and we need to do better."
And that's what continues to drive him.
"Cancer is a very grim diagnosis for many patients. My mom passed away from pancreatic cancer," he said. "But hope is over in research. Research is where the hope lives. I believed that a bazillion years ago when I started down this path and I believe that now. And that's what we are trying to accomplish."
A world-recognized oncologist and multiple myeloma researcher, in addition to director of the IU Simon Comprehensive Cancer Center, Lee also serves as associate dean of cancer research, H.H. Gregg Professor of Oncology, and professor of medicine and microbiology and immunology at the IU School of Medicine.
In his free time, he cheers on the Buffalo Sabres, Buffalo Bills, Indianapolis Colts (when they're not playing the Bills) and the Indiana Pacers.
The Heroes Foundation serves the Indiana cancer community by providing meaningful support to cancer patients, education to promote cancer prevention, and resources to advance research for a cure. To join our mission, go to: https://www.heroesfoundation.org.