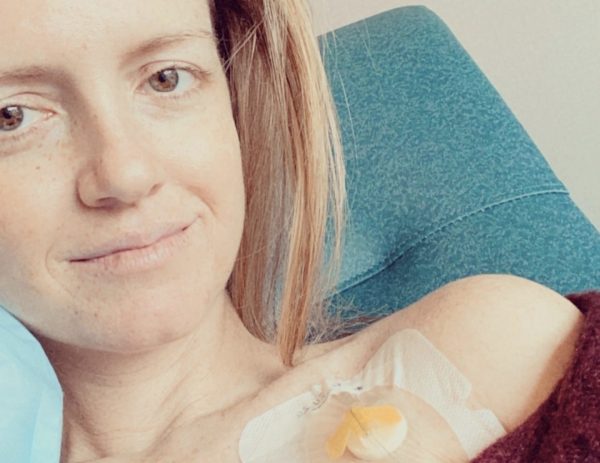 For Lindy Thackston, life before cancer was busy, fulfilling, and free.
She was juggling three dream jobs – morning news anchor at FOX59, public address announcer for the Indianapolis Motor Speedway, and until last year, Pacers game night emcee.
Lack of sleep was a way of life for the working wife and mom.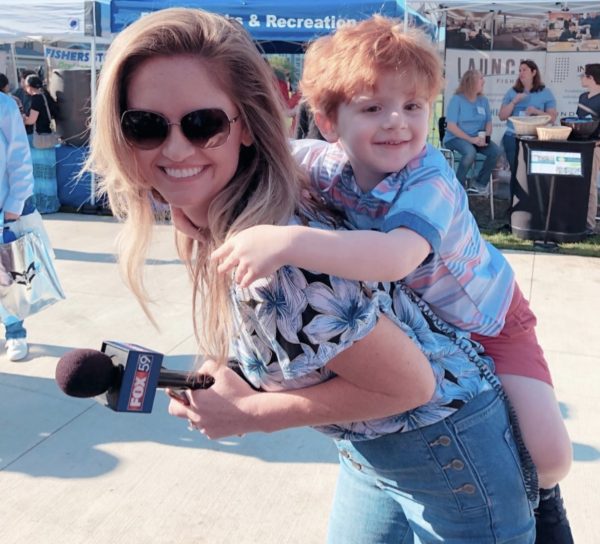 Her busy schedule made it easy to brush off the fatigue.
But the abdominal cramps and tailbone pressure were harder to dismiss.
A CT scan showed signs of inflammation. Her doctors assumed it was ulcerative colitis, but they wanted to schedule a colonoscopy to be sure.
It was March of 2020 and COVID-19 was beginning to spread.
Her colonoscopy got postponed three times.
But her family doctor kept pushing.
In early May, they found a colorectal surgeon who would do the procedure.
Lindy's husband, Chris Hogue, got the news before she did – but she had a hint that something was wrong.
"I woke up from anesthesia and I heard the doctor say biopsy and the nurse covered my ears."
Later, she would learn he found a tumor.
Suddenly, Lindy was juggling another job, one she never signed up for – fighting cancer.
"I don't have a family history of it. I didn't really have any risk factors. I was only 39 years old," she said. "It was completely shocking."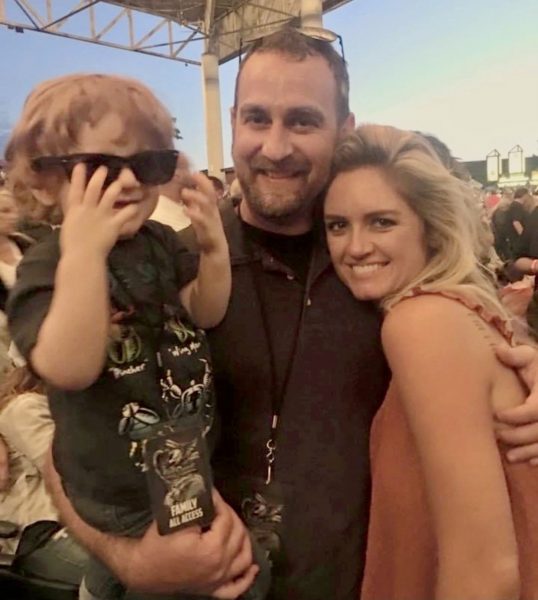 Telling her family and friends was harder than she anticipated.
"That's something you don't think of," she said. "You feel bad telling them because you know it's going to be devastating news."
And because her life is so public, it meant sharing that news with the public.
"It surprised me how many people have been shocked that I've been open about it. But it never even occurred to me not to be," she said. "With my job, what was I going to do – just disappear for a year?"
Instead, she started her cancer journey and brought everyone along with her.
Diagnosed with stage three colorectal cancer, Lindy's doctors were confident it could be treated.
"They decided I would do six weeks of radiation and chemo pills, then I would have a six-week recovery and then I would have surgery to have the tumor removed. Then, I would have another six-week recovery and then I would do 12 rounds of cleanup chemo."
But things didn't go as planned.
"I got through 15 days of the radiation and chemo pills. I left work saying, 'I'll see you tomorrow.' The last thing I remember is being in the hospital room at St. Vincent and looking at myself in the bathroom mirror like I was fully pregnant again. I ended up having emergency surgery for a bowel blockage."
While hospitalized, she became extremely disoriented – which puzzled her doctors and alarmed her family.
"I was in the hospital for 24 days and I have zero memory of three weeks of it. I didn't recognize anyone. I didn't know anyone," she said. "Then one day, I was laying in the hospital bed and all of the sudden, my mind was there. I was like, 'Hello, everybody.'"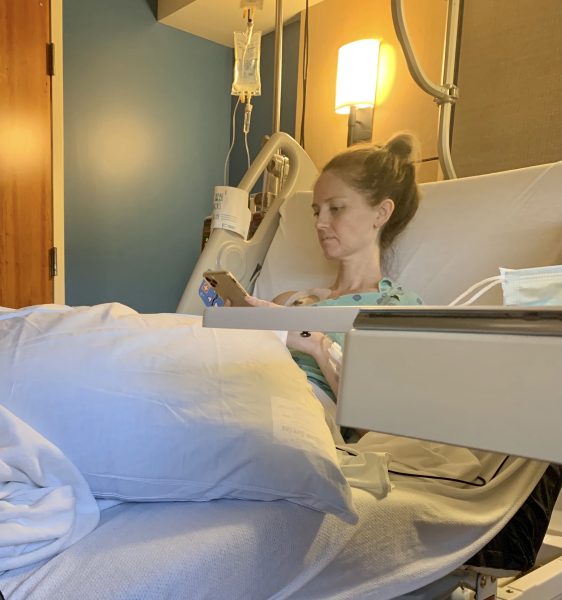 When the fog lifted, she realized she lost more than her memory – she also lost 40 pounds.
"When I came home from the hospital, that was the first time I looked like a cancer patient," she said. "It was very difficult to see. At that point, I was so underweight, I had to have surgery to get a chest port put in and go on IV nutrition. I was doing that 18 hours a day to try to gain weight back."
Her husband became her fulltime caregiver.
"The whole summer, Chris had to carry me to the vehicle and put me in. I could do nothing for myself. We had to set timers overnight for him to give me medicine," she said. "He did literally everything. I could not have survived without him."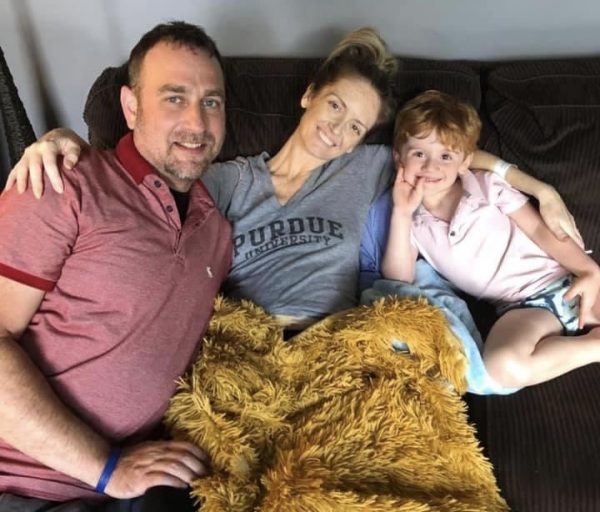 And they couldn't have survived financially without their racing family.
"Chris and I met in racing, he was an IndyCar crew chief for 12 years," she said. "The Indy Family Foundation and the USAC (United States Auto Club) Benevolent Fund have been helping us pay our bills. The racing community has really embraced us. We are beyond grateful to them."
In August, Lindy had surgery to have the tumor removed. They also removed more than 8 inches of her colon and 41 lymph nodes. One of them tested positive for cancer.
She then began the phase she's finishing now – cleanup chemo, which drops her chances of recurrence by 60 to 80%.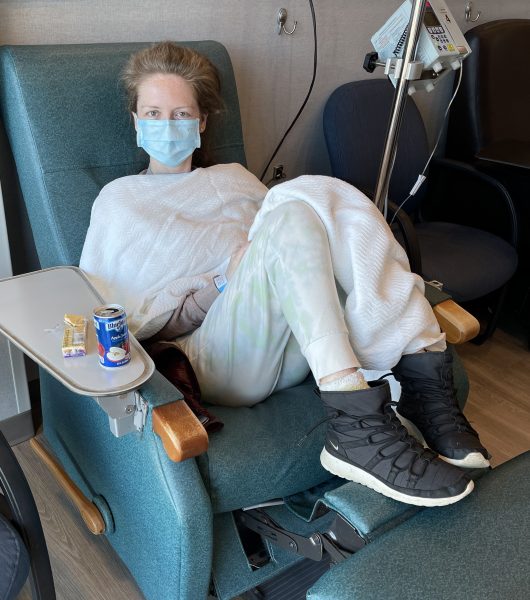 It's been a rough road – one Lindy is still navigating. But there's a light at the end of it. Her last scan showed she's cancer free.
Now that she can see the finish line, she's preparing to reclaim her life. But that comes with its own challenges.
"I spent this last year being active about tackling this and then suddenly, you're done – and now what? I'm really excited for that, but there's a lot that comes with it – a fear that it's going to come back. That fear can be paralyzing."
She's taking a holistic approach to healing – embracing acupuncture and massage for her body, therapy for her mind, and connecting with others for her soul.
"I started this little podcast. It's called Life with Lindy. They're only about five minutes long," she said. "They're up on Apple, Podcast Now, Spotify, and I set up LindyThackston.com. I'm going to keep it going once I get through the cancer story because I'm enjoying it."
It's her way of paying it forward – answering questions and sharing what she's learned to give others a fighting chance.
Lindy is grateful for her heroes – those who saved her life, kept her going, and continue to lift her up.
"There weren't really times I wanted to give up. But there were definitely times where I understood how people would. I definitely had times where I was like, 'I don't know if I can do this.'"
But she did. And she does. And she will.
She believes there's something beautiful on the other side of her journey.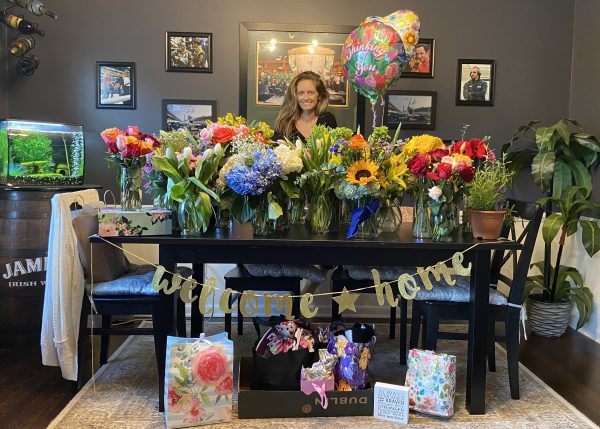 "I really have no choice but to be thankful for what I've been through," she said. "This is my life now."
For Lindy Thackston, life after cancer is precious.
And that itself is beautiful.
The Heroes Foundation serves the Indiana cancer community by providing meaningful support to cancer patients, education to promote cancer prevention, and resources to advance research for a cure. To join our mission, go to: https://www.heroesfoundation.org.