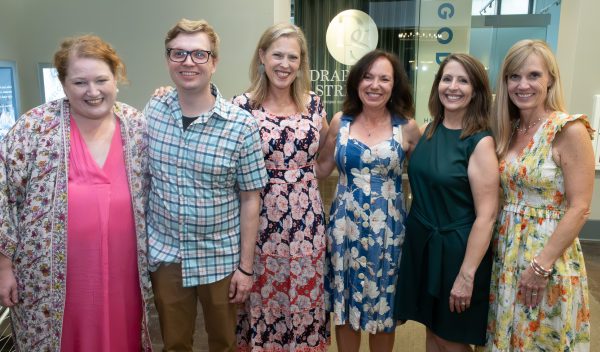 INDIANAPOLIS — The Heroes Foundation Catherine Peachey Fund, a leading supporter of advances in breast cancer research and treatment, has awarded $25,000 to the IU Melvin and Bren Simon Comprehensive Cancer Center to study inflammatory breast cancer, an incredibly aggressive and rare form of breast cancer.
Wine Tasting With Peachey, a fundraising event held on June 19, 2023, at the Indiana Design Center in Carmel, Ind., welcomed 220 guests whose generosity helped raise $86,624 and fulfilled a $5,000 matching gift challenge provided by the Milburn Foundation and the Inflammatory Breast Cancer Research Foundation.
Heather Pirowski, event committee member and activist, shared her own experience with inflammatory breast cancer (IBC) during the fundraiser. The mother of two school-aged children was diagnosed with stage III IBC in 2020 after multiple missed diagnoses and failed treatments.
"IBC continues to be overlooked, misdiagnosed and dismissed. And too often, IBC patients are unable to participate in the minimal research being done to diagnose and treat the disease," Pirowski said.
The Heroes Foundation Catherine Peachey Fund's partnership with IUSCCC researchers takes aim at this issue. The $25,000 gift will be used in the development of new models to study how inflammatory breast cancers originate and how different they are compared to common breast cancer subtypes. Researchers can harness the knowledge gained from this project to develop even more IBC research.
"When we are considering where to provide financial support, we often focus on people and organizations working to end disparities in breast cancer research and outcomes," said Stephanie Lesher, a longtime key volunteer. "The IBC research certainly fits our criteria, and we believe it will efficiently move from being an idea or project in a lab to being a reality in the diagnosis and treatment of breast cancer."
Pirowski formed a bipartisan group that will be working with Indiana legislators to introduce a comprehensive breast cancer bill in the 2024 legislative session. She is also a member of the Inflammatory Breast Cancer Research Foundation board.
"IBC patient advocates are in limited number because this aggressive disease takes too many of us quickly. I encourage my fellow breast cancer survivors and thrivers to use their voices to advocate not only for themselves but for others. This is how change happens and lives are saved," Pirowski said.
Special guests at Wine Tasting With Peachey also included Lisa Hayes, the Executive Director of Pink-4-Ever Ending Disparities, a nonprofit organization that works to eliminate breast cancer disparities for Black women through advocacy, education, research and empowerment.
More About Inflammatory Breast Cancer
According to the National Cancer Institute, IBC accounts for just 1 to 5 percent of all breast cancers diagnosed in the United States, and at time of diagnosis, most cases are already stage III or stage IV. Treatment is complicated by the fact that many IBC tumors are hormone receptor negative, which prevents effective treatment using traditional hormone therapies.
About the Heroes Foundation Catherine Peachey Fund
The Catherine Peachey Fund promotes advances in breast cancer research and treatment. The Fund supports researchers in Indiana who think creatively and challenge the status quo of breast cancer treatments. Since 1994, the Catherine Peachey Fund has provided over $3.5 million to further breast cancer innovations and research.
About the Heroes Foundation
The Heroes Foundation brings hope to the Indiana cancer community by providing meaningful support to cancer patients, education to promote cancer prevention, and resources to advance research for a cure. A medical advisory board provides guidance and strategic input on how the Foundation's resources can best be used to meet the needs of medical researchers exploring various types of cancers. The Foundation currently support projects at Indiana University, Purdue University and the University of Notre Dame. These outstanding universities provide research resources, knowledge, and connections to experts around the world. The organization was co-founded by cancer survivor Vince Todd Jr. and his wife Cindy Todd in 2000. Visit heroesfoundation.org for more.