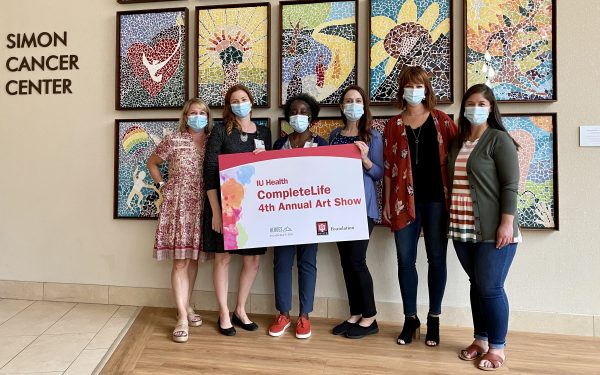 The CompleteLife Program started as an idea – you don't just treat the cancer, you treat the whole patient – body, mind, and spirit.
Heroes Foundation Co-Founders Vince and Cindy Todd first heard about it from Dr. Larry Cripe at the Indiana University Simon Comprehensive Cancer Center when Vince was being treated for Hodgkin's Lymphoma back in 2000.
"He found out we were raising money for the Lance Armstrong Foundation and he said, 'Hey, I'm trying to get this program off the ground. This is what it entails – it's music therapy, art therapy, yoga, massage, support services – different aspects to help the patient get through the cancer experience,'" said Cindy. "We were like, 'We'd love to keep that money in our own backyard and support our doctor, who we really love and respect.' So, we helped Dr. Cripe get the CompleteLife Program started."
Over the years, the Heroes Foundation and the CompleteLife Program have grown together and supported each other along the way.
Today, CompleteLife isn't just an idea – it's a comprehensive program, staffed and housed on the first floor of the IU Simon Comprehensive Cancer Center. The mosaics on display go back to the first art therapy sessions.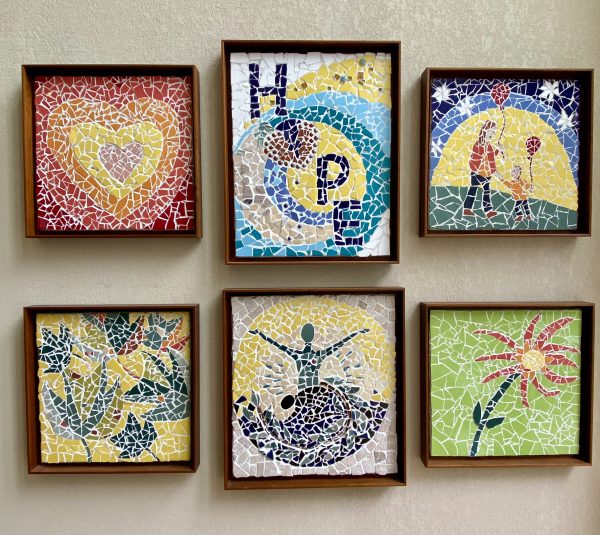 "When Dr. Cripe first started the CompleteLife Program, he had this therapy session where the patients would share their stories and talk about what they were going through and bring it to life in their artwork," Cindy said.
Seeing it 20 years later puts some perspective on the growth of the program – and the impact of their support.
"It's come a long way," she said. "We are making a difference."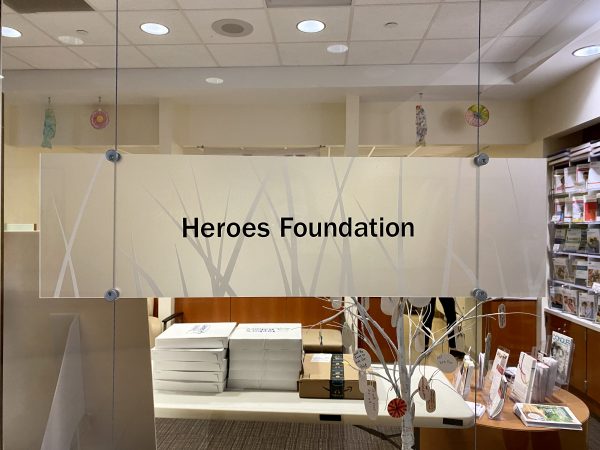 This week, that relationship came full circle during the 4th Annual IU Health CompleteLife Art Show sponsored by the Heroes Foundation.
The art show has become a beloved tradition amongst hospital patients and staff.
"People look forward to it. We have some artists that have entered almost every year. So, it's kind of cool to see their art evolve and what they turn in based on our theme every year," said Lindsay Burkowski, CompleteLife Program Manager.
This year's theme, "What Happens After," is particularly appropriate.
"Some may think about a medical diagnosis, others may think about survivorship – there are many ways you can interpret that," she said. "We've been in this COVID marathon, so to be able to offer an opportunity for people to get reconnected with the human aspect of the community in the medical setting is really helpful."
"We all have the innate capacity to be creative," said Art Therapist Heidi Moffatt.
While working in the CompleteLife Progam, she uses creativity to build a therapeutic relationship with her patients.
"Common things I see are anxiety, depression related to diagnosis, needing stress relief, social support – especially with the pandemic and having limited visitors. I'll gather that information and see what kind of art media they would like to try."
She likes to start small and build confidence with collages and vision boards. When it's appropriate, she even includes family members.
"And then, the conversations with staff that go into the room become about that piece or about their creativity or about their interests," she said. "It becomes more about their personal interests than solely their medical care."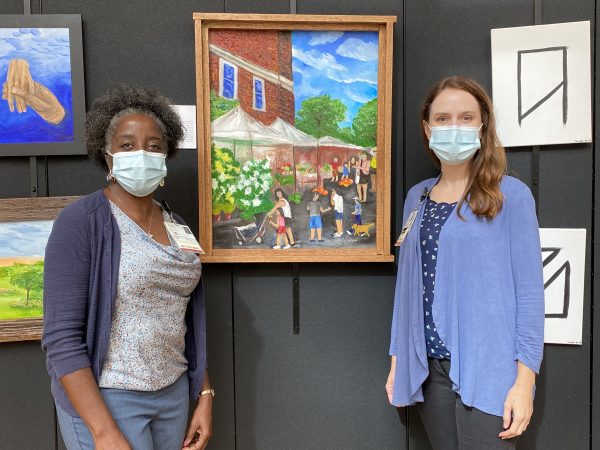 It's also a way for the patients to process things, sometimes without even realizing it.
"If there are a lot of emotions going on, a patient could describe their emotions by putting a color with the emotion," said Art Therapist Linda Adeniyi. "We help with the healing process by allowing them to express those feelings and giving them somewhere to put them."
Kelly Shannon was diagnosed with stage 4 metastatic breast cancer at 39 years old.
"I just knew from that moment that every day after that was going to be different," she said. "When I went to bed that night, that was the last day of my old life. And the next morning was my new normal of dealing with this disease every day."
She was waiting for a radiation appointment when she saw a flier seeking submissions for this year's art show.
For her, it was just what the doctor ordered.
"I've been told to journal a lot and I'm horrible at writing things down. I can't even do a grocery list. And so, this was the perfect outlet for me to get a lot of feelings that were inside – instead of down on paper, I got them down on a canvas instead."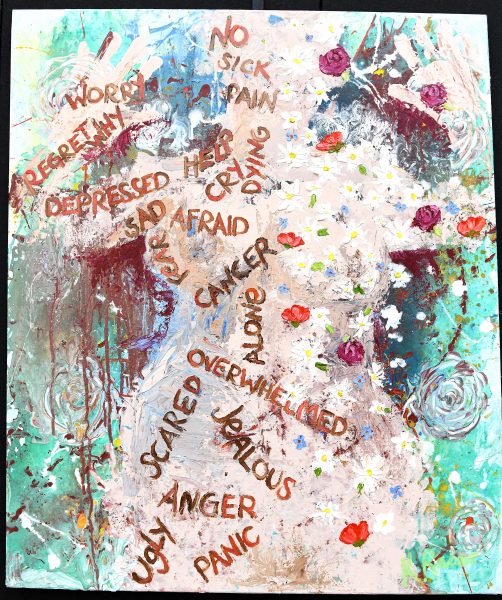 An art major in college – with three kids now, Shannon hadn't produced anything for almost a decade. Her painting, "Surviving," represents what she calls "the constant internal, isolating struggle of living with cancer and finding room for hope."
For Shannon, art has become an outlet – one she'll continue to utilize.
"To put it onto a piece of paper and have somebody see it is way different than actually talking about it. So, that was easier for me then," she said. "But now, I feel good about talking about it and I want my story to be heard. I think it's very therapeutic."
For her, "What Happens After" is a sense of empowerment.
"It takes away the power that it's holding over you when you let it out. When you tell other people, it doesn't hold onto you as much."
Every artist has their own story and their own motivation.
The CompleteLife Art Show is on display at the IU Health Simon Comprehensive Cancer Center through Friday, September 24,th then at the Harrison Center for the Arts from October 1st through the 30th.
You can also view the pieces online at: https://iuhealth.org/thrive/gallery-completelife-art-show-entries?fbclid=IwAR3aUsWGBGM94sCBiXYKk2MnAh3L30uwM3lH-tYj3fuEd5EpH64reeKuf1s.
To learn more about the CompleteLife Program and art therapy services, contact CompleteLife@iuhealth.org or 317.944.0301.
The Heroes Foundation serves the Indiana cancer community by providing meaningful support to cancer patients, education to promote cancer prevention, and resources to advance research for a cure. To join our mission, go to: https://www.heroesfoundation.org.