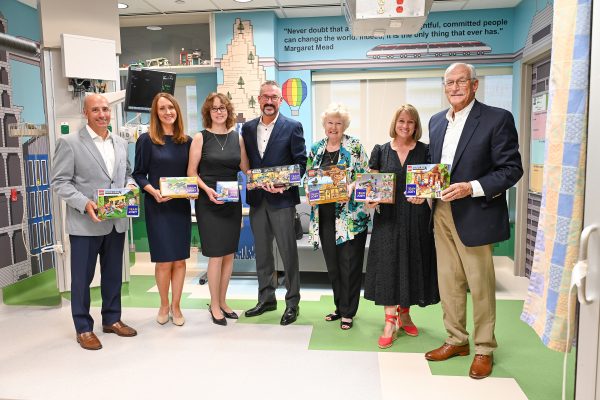 Nick and Elizabeth Keller took an elevator up to the third floor of Peyton Manning Children's Hospital and stepped across the threshold of a new space that looked nothing like a typical hospital room.
The Kellers were familiar with hospital rooms. They had spent two difficult years in and out of them after their 8-year-old son, Joey, became sick with cancer.
In this room, they were surrounded by bright walls decorated to look like a city made of building blocks with a building-block mountain studded with trees and colorful hot air balloons floating all around.
"Joey would have loved this," Nick was overheard saying. Joey loved playing with LEGO blocks.
The Kellers lost their son in 2013, but Joey's legacy lives on in part through the newly renovated Heroes Foundation Team JOEY Cityscape Room at Peyton Manning Children's Hospital.
In 2022, the Heroes Foundation completed a $50,000 gift to the hospital to fund renovations of the inpatient pediatric intensive care unit (PICU) room. After a year of planning that included conversations with former patients and their families, and design and hospital staff, the room was complete.
On September 26, 2023, Nick and Elizabeth Keller, Nick's parents and representatives from the Heroes Foundation were among the first people to see the green sign posted on the wall outside of the PICU room named in Joey's honor.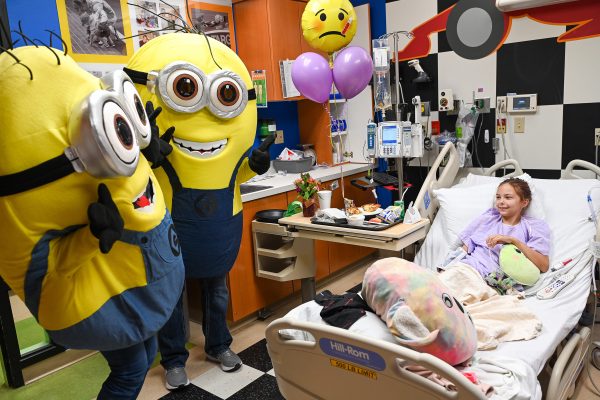 The renovation project was more than an honorarium. Research shows that physical environments tailored to children help them heal. The first comprehensive report on the topic was led by the National Association of Children's Hospitals and Related Institutions. It found improved clinical, physiological and psychological outcomes in the NICU, children's settings, and adolescent settings related to interior design.
"Special touches and unique experiences can create a calming environment that makes the patient experience better and provides better care as well," says Sara Homburg, the Director of Annual Giving, Communications and Events at the Ascension St. Vincent Foundation, associated with PMCH.
In addition to the built environment, play has proven to provide high therapeutic value to hospitalized children, contributing to both their physical and emotional well-being, and to their recovery. Inspired by Joey's generosity and his love of LEGO, Heroes Foundation Team JOEY regularly provides LEGO sets and hosts parties for pediatric patients and their families at hospitals across Central Indiana.
The Heroes Foundation Team JOEY Cityscape Room is also full of characters that children can search for by playing a "Where's Waldo?" style game, a concept that former patients put forth during the room's design phase. This form of play serves as a distraction for patients who might be, for example, waiting to go into surgery. Homburg says the different themes can help break the ice when a healthcare provider or caregiver needs to have a difficult conversation.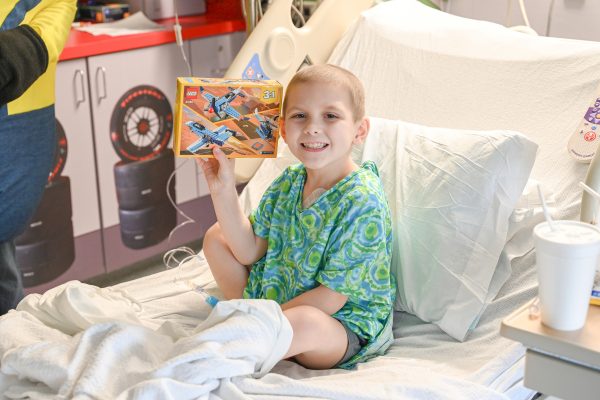 It might seem simple, but spending time in a themed room or playing with a new LEGO set can reduce a child's stress and anxiety when they are in the hospital, supporting patient outcomes.
Ideally, no child would ever face a cancer diagnosis, so the Heroes Foundation Team JOEY fund also empowers cancer research focused on pediatrics, a grossly underfunded area of cancer study.
"The Heroes Foundation is relentless in its pursuit of cures for pediatric cancer and advances in treatments, as well as getting LEGOs into the hands of every child battling cancer. Just what Joey wanted," Nick Keller said following the Cityscape Room dedication.
Joey was a generous child and a fighter with a spirit that inspired many people around him, including those associated with the Heroes Foundation. The Heroes Foundation is grateful to Joey Keller's family, who allow us to continue to be inspired by Joey, and to all of the supporters of the Heroes Foundation Team JOEY fund.
Find more information about the Heroes Foundation Team JOEY fund and its important work for pediatric cancer patients.