'An Evening With Heroes' Event Details
19TH ANNUAL GALA FUNDRAISER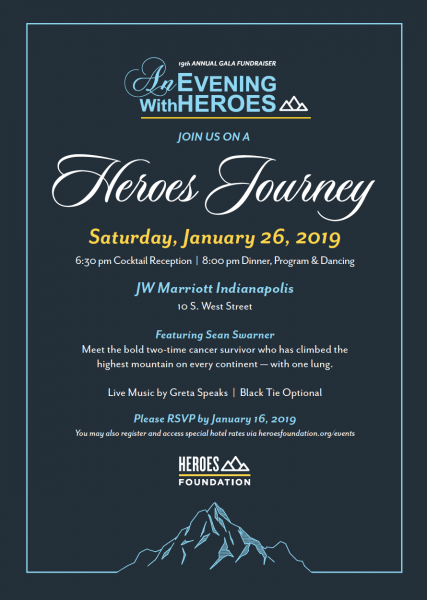 WHEN: Saturday, January 26, 2019 — 6:30 PM Cocktail Reception & 8:00 PM Dinner, Program & Dancing
WHERE: JW Marriott, 10 S. West Street, Indianapolis
REGISTRATION: 
Early Registration until Dec. 31st- $175 per ticket
Registration beginning Jan. 1st – $200 per ticket
SPONSORSHIPS:Through January 1, 2019, Extended Date January 7, 2019, we are seeking sponsors for An Evening With Heroes. Join the Heroes family of generous corporate sponsors. Consider a $2500 Heroes Gala Sponsorship Table, which includes 10 gala tickets and special recognition. See all of the sponsorship levels and benefits in the 2019 Corporate Sponsorship Program.
VIEW THE 2019 CORPORATE SPONSORSHIP PROGRAM
JW MARRIOTT SPECIAL BOOKING: Make an evening of "An Evening With Heroes." Arrive early, stay late and celebrate with other champions of the local cancer community with this special invitation from the JW Marriott. We expect the JW to sell out on this evening. Don't lose your room. Book before Dec. 31 for the reduced "An Evening With Heroes" rate.
FEATURED GUEST: Sean Swarner is the bold, two-time cancer survivor who has climbed the highest mountain on every continent — with only one lung. We are proud to welcome him to share his heroic story during "An Evening With Heroes."
LIVE MUSIC: Greta Speaks returns to perform all the classic rock and pop tunes we love!
EMCEE: Ray Cortopassi of FOX59 makes his "An Evening With Heroes" debut. Welcome!
DRESS: Black Tie Optional
PARTICIPATE IN THE SILENT AUCTION: We need generous people to provide items for our always-popular silent auction. Products and experiences are welcome. Last year we raised about $55,000. You can help us reach and exceed that total. Get your gift in front of our amazing audience! Please contact Cindy Todd at ctodd@heroesfoundation.org to learn more.
SILENT AUCTION: Stay tuned for details on previewing items and bidding prior to January 26!
VOLUNTEER: Sign up to play a heroic role in "An Evening With Heroes." We have lots of volunteer opportunities available. Please contact Cindy Todd at ctodd@heroesfoundation.org to learn more.
PARKING: Bookmark this page and visit us again for information on parking!
Next Article
2019 Spin4Heroes Event Details
9TH ANNUAL SPIN4HEROES Powered By Roche WHEN: Sunday, March 10, 2019, noon-4 p.m. WHERE: Indiana Farm Bureau Football Center (Indianapolis Colts Training Facility), 7001 W 56th St, Indianapolis, IN 46254   You have two ways to participate! For both options, the Heroes Foundation offers user-friendly digital tools to help you be a successful fundraiser and ambassador […]