During the February 11, 2023, Amelia Project conference, breast cancer scientists and clinicians came together for a day of collaboration at Indiana University Kokomo. One person in attendance said the enthusiastic crowd looked "hungry for interaction."
The Amelia Project is made possible through support from the Catherine Peachey Fund, a member of the Heroes Foundation family. Since 1998, attendees have come to the Amelia Project to enhance their research through collegial sharing and encouraging and educating pre- and post-doctoral candidates.
Event co-chairs Dr. Harikrishna Nakshatri, Ph.D. (Marian J. Morrison Professor in Breast Cancer Research and Professor, Department of Surgery, I.U. School of Medicine), and Dr. Kathy Miller, M.D. (Ballve Lantero Professor of Oncology, Department of Medicine Division of Hematology/Oncology, IU School of Medicine), organize the meeting with support from Kristen Scott of the IU Simon Cancer Center and Stephanie Lesher of the Catherine Peachey Fund.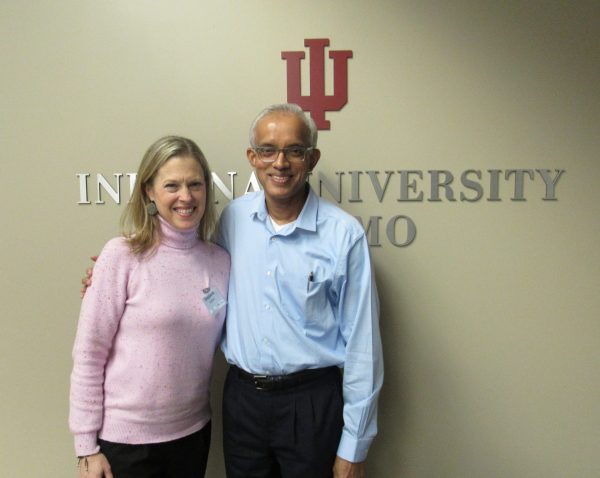 Dr. Nakshatri says the Amelia Project's greatest value for attendees is its ability to provide a single platform for interaction and the exchange of ideas among researchers from the University of Notre Dame, Purdue University and Indiana University.
"One example is the presentation about a hand-held device developed by biomedical engineers at Notre Dame for breast imaging. They were looking for clinical collaborators. I was able to connect them with clinical collaborators at I.U. immediately after the meeting," Dr. Nakshatri says.
Karla Adriana González is a post-doctoral student at Notre Dame leading that biophotonics research group. Her team's handheld imaging device uses light to do two things: 1. predict the efficacy of breast cancer treatments targeting tumors in patients receiving pre-surgical chemotherapy, and 2. distinguish between benign and malignant breast abnormalities.
"I attended the Amelia Project to connect with Indiana's breast cancer research community, to share our research group's latest work on a novel handheld device for breast imaging, and to engage with potential research collaborators that would like to participate in our clinical studies," González says.
The Amelia Project has already helped move her work forward by providing opportunities to connect with potential research collaborators. Having collaborators would help the team expand their subject population for the clinical trials of their handheld device.
"The feedback about our work has personally been very motivating. It was wonderful to receive an enthusiastic response from several patient advocates and researchers towards our ongoing work to bring the handheld device to the clinic," she said. "Several expressed their willingness to help."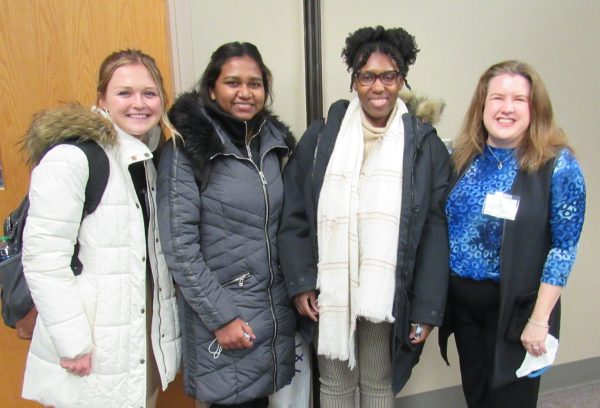 The agenda included presentations from each of the three schools, followed by a "poster session" and oral presentations from postdocs and graduate students. González also heard a perspective researchers like her don't often have access to, that of the breast cancer survivor.
"A patient advocate shared her struggle to get a breast cancer diagnosis due in part to having dense breast tissue. This is precisely a case in which our handheld device can help," she says. "I was very happy to share that with her and see her and others' enthusiastic response."
One of the patient advocates who participated in the panel discussion was Stephanie Judge Cripe, a four-year cancer survivor who also volunteers for the Peachey Fund.
"It was more meaningful to me than I can express. The panel included several breast cancer survivors, and we shared our stories and answered questions. I was so moved by the questions asked by researchers and the care with which they interacted with us. You could tell that they genuinely want to conduct research that will have an impact on the patient experience and outcomes," Cripe says.
Cripe was moved to tears several times throughout the day, knowing that people in that room could be working on a cure or on new treatments or diagnostics that could change the future.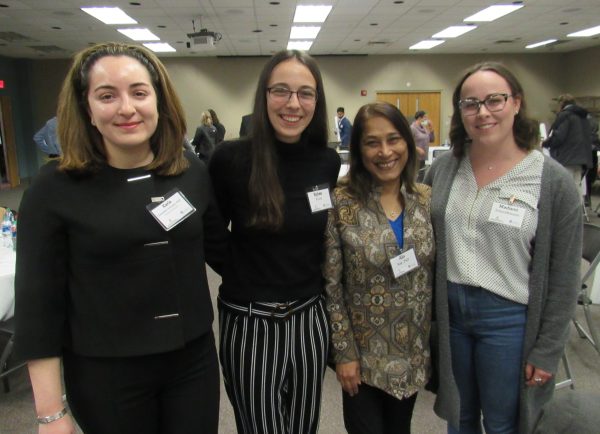 "My work is often driven by my interaction with advocates," Dr. Nakshatri says. "Hearing about inflammatory breast cancer at the meeting made me think about how I can contribute to inflammatory breast cancer research. The initial analysis we did after the meeting indicates a unique cell of origin of inflammatory breast cancer. The next step will be to generate inflammatory breast cancer models using Komen normal breast tissue."
That "normal breast tissue" Dr. Nakshatri refers to is only available partly as a result of an Amelia Project event.
During the 2004 conference, a young breast cancer researcher raised her hand during a Q&A session. She needed "normal" breast tissue for her research, she told the leader from the National Cancer Institute, and asked where she should go to request it. The NCI leader responded that the kind of normal breast tissue samples she was asking for didn't exist. And any tissue that might exist wouldn't be shared. In addition, there just wasn't enough normal tissue to supply a robust research project.
This answer was likely acceptable to no one in the room, including Catherine Peachey Fund co-founder Connie Rufenbarger.
When female researchers in attendance were asked if they would be willing to donate their normal breast tissue for research, the answer was a resounding "Yes!"
Buoyed by both the enthusiasm and the need, the Catherine Peachey Fund partnered with the I.U. Simon Cancer Center with Dr. Steve William's support. Dr. Anna Maria Storniolo agreed to take on the momentous project that eventually became the Susan G. Komen Tissue Bank (KTB). As of March 2023, 5,035 women had donated breast tissue to the KTB, representing 47 states as well as Puerto Rico and Washington D.C. And 171 researcher projects around the world were using samples from the KTB.
This is the power of the Amelia Project to bring important needs to the fore and immediately begin to formulate ways to fulfill them collaboratively. The Catherine Peachey Fund is proud to lead and sponsor this important event.