Amelia Project Showcases Groundbreaking Cancer Research
On Saturday, March 23, 2019, the Amelia Project 16th Annual Meeting was held at Indiana University-Kokomo. The Catherine Peachey Fund of the Heroes Foundation was once again the sponsor for this unique event, bringing together nearly 100 Indiana breast cancer researchers, physicians, patient advocates and, for the first time, representatives from the pharmaceutical industry.
The hallmark of this meeting is collaboration. Breast cancer researchers from the University of Notre Dame, Purdue University, Indiana University-Bloomington and Indiana University-Purdue University at Indianapolis came together to present their research and to learn from one another.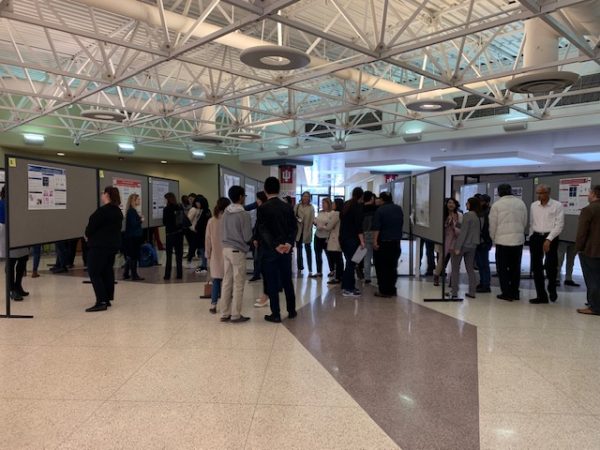 "It is a thrill to watch these great minds furiously taking notes, asking questions of their colleagues, complementing each other on their research and presentations, and discovering ways that they can share research information and resources," Stephanie Lesher, Program Director for the Catherine Peachey Fund, said.
"This one-day meeting advances breast cancer research in ways that wouldn't happen if these scientists did not come together and collaborate. We are helping move breast cancer research forward more quickly and efficiently."
An exciting new component to this year's Amelia Project was the attendance of representatives from Pfizer and Novartis. Industry and academia recognize that working together and collaborating on breast cancer research is in the best interest of both parties and, more importantly, in the best interest of patients. We are excited to help grow this new component of the meeting as we look toward the Amelia Project 2020!
For more information on the Amelia Project, please contact Stephanie at slesher@heroesfoundation.org.
Next Article
Thank You to Our 2019 Spin "Heroes"
On Sunday, March 10, participants jumped on spin bikes at Spin4Heroes, powered by Roche, to pedal for four hours and support this crucial Heroes Foundation fundraising event. Over $85,000 was raised — pushing us beyond our fundraising goal and generating funding that will provide support to cancer patients, education to promote cancer prevention and resources […]