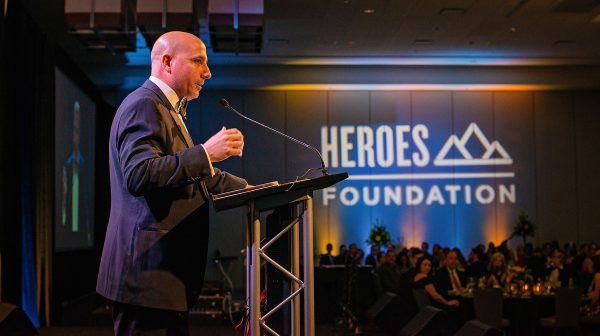 Dear Heroes Foundation Family,
Last Saturday night, whether you were with us in-person, or participated online, you
showed up and you showed out!
While there is no such thing as a perfect event, we feel the evening went well and
the results speak for themselves. While attendance was the second lowest since
2013, for obvious reasons, thanks to all who participated, we set an An Evening
With Heroes fundraising record! This includes hitting our Fund-A-Program drive
goal. As of this writing, total funds raised for the event have just surpassed
$445,000, which is a "new track record".
This is a great start to 2022 (the deuce-deuce) and a trend we hope continues as we
move into the Fit4Heroes campaign. Not familiar with Fit4Heroes? Let us know at
contactus@heroesfoundation.org, follow us on social media (Facebook, Insta,
LinkedIn, Twitter), and/or check the Events page on our website. This campaign is
a great way for you, your friends, family, employees, co-workers, etc. to get moving,
promote cancer prevention, and raise funds to improve the lives of Hoosiers.
Your continued support and partnership is greatly appreciated. Interested in
volunteer opportunities? Interested in joining the growing number of corporate
partners? Contact us to learn more.
Thank you and #beatcancer,
Vince