TODAY.com Features Abby Grubbs' Team JOEY Story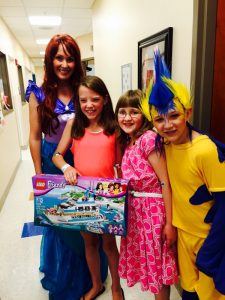 INDIANAPOLIS—Our Team JOEY program was featured on the TODAY show site today. Young Abby Grubbs is a true inspiration, with Heroes Foundation board member Kelly Canada.
Lutheran Children's Hospital patient Abby Grubbs (at right in pink dress) recently finished 2.5 years of cancer treatment and is giving back by collecting LEGOs to provide to cancer patients instead of receiving gifts for her 10th birthday. During the event, Wagon Wheel Little Mermaid cast members, including Parker Irwin as Flounder, also entertained patients.
The event was made possible through the Heroes Foundation. This is the Heroes Foundation's second time to visit Lutheran Children's Hospital for a LEGO "give" as part of the Indiana nonprofit organization's Team JOEY program. Heroes Foundation Board Member and cancer survivor Kelly Canada, as Ariel, also joined the Wagon Wheel Little Mermaid cast members for the LEGO delivery.
Read the full story here.
Next Article
The Huffington Post Shares Abby Grubbs' Team JOEY Story
INDIANAPOLIS—The Huffington Post continued to pay forward the Abby Grubbs story of selflessness on her birthday. Reporter Ryan Grenoble writes, "When you're a kid, birthdays generally mean only one thing: presents. That makes Abby Grubbs' 10th birthday, which she celebrated last Friday, all the more remarkable." Read the full coverage and see more photos here.