March 11 Spin4Heroes Takes Over Colts Practice Turf
FOR IMMEDIATE RELEASE
Four hours of spinning to impact the Indiana cancer community during Heroes Foundation's seventh annual event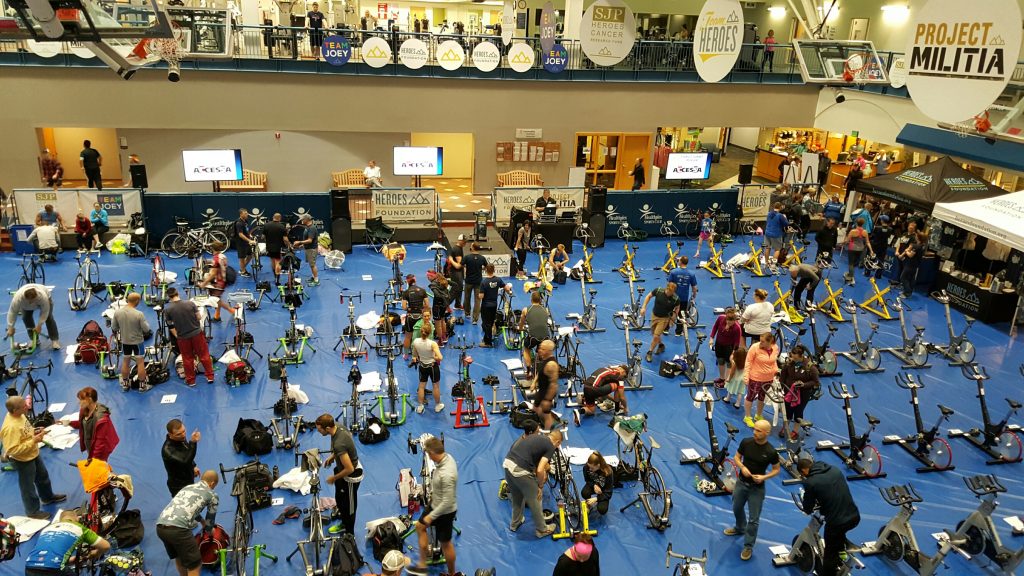 WHAT: The Heroes Foundation's seventh annual Spin4Heroes event happens March 11, 12-4 p.m., at a new location: the Indiana Farm Bureau Football Center. More than 70 teams of cyclists of all abilities are expected to take over the Colts practice facility to support the Indiana cancer community.
An experience like no other in Indianapolis, Spin4Heroes is an indoor, relay-style, team cycling/spinning event featuring motivating spin instructors and a DJ — think college fight songs, pop music and maybe a little "Devil Went Down to Georgia." Each team is typically made up of four people who raise funds ($400 minimum) for the Heroes Foundation and take turns on the bike for four hours. Kids activities will be provided while parents spin, and youth team (grade 6 and up) are welcome. Prizes will be awarded for high-mileage and high-fundraising teams.
All proceeds benefit the Heroes Foundation's work to provide meaningful support to cancer patients, education to promote cancer prevention and resources to advance research for a cure in Indiana.
At the 2016 event, 69 teams and sponsors raised over $64,000, $10,000 more than in 2015. "We could not have been more pleased with the turnout. This event just keeps getting bigger not only because people care about the work of the Heroes Foundation, but also because it's just fun," says cancer survivor Vince Todd, Jr., co-founder and chairman of the Heroes Foundation.
Volunteer and sponsorship opportunities are still available.
WHEN: Saturday, March 11, 2017, 12-4 p.m. (On-site check-in is open 10-11:30 a.m.)
WHERE: Indiana Farm Bureau Football Center, 7001 W. 56th St., Indianapolis, IN 46254
REGISTRATION/MORE INFO: Team captains can register teams online. Individual team members will also need to register online: http://heroes.dojiggy.com.
Next Article
2017 Spin4Heroes Wrap-Up
Thanks to support from participants, sponsors and volunteers, Spin4Heroes on March 11, 2017, raised a total of $64,000 to back the Heroes Foundation's cancer fundraiser and initiatives around support, research and prevention. Held for the first time at the Indiana Farm Bureau Football Center, 65 teams of four people each took to the turf where the […]