Inside the Labs We Help Fund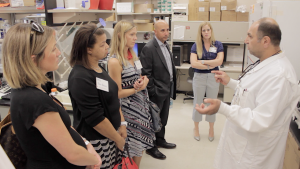 Heroes Foundation Board Members got a behind-the-scenes look inside IU Simon Cancer Center labs where researchers, several of whom have received valuable funds from the Heroes Foundation, are working hard toward finding a cure for cancer.
Board Member Dr. Jeff Wells says he enjoyed spending time with the dedicated, passionate researchers. "I learned a great deal about the cutting-edge work being done to solve some of the more challenging issues faced while developing new cancer treatments," Wells says. "This experience reinforced for me the critical importance the Heroes financial support provides."
Cancer survivor and Board Member Janet Campbell Baker was equally impressed. "It took my breath away to step into the labs of the IU Simon Cancer Center," she says. "Meeting with researchers and their teams and standing inches away from the work that will one day harness this dreadful disease gave me hope as a survivor and the motivation to continue to help support their invaluable work."
Dr. Karen Pollok of the IU School of Medicine received a $40,000 research gift from the Heroes Foundation in 2014 and we continued to support her work in 2015 with a $15,000 gift. During the tour, she and Dr. Reza Saadatzadeh (shown in top photo) shared how their team discovered a therapy that increases survival of human glioblastoma cells in a mouse model. With funds from the Heroes Foundation, they have been able to expand this experimental approach to look at glioblastoma cells that have different mutations and responses to conventional therapy.
The Heroes Foundation awarded Dr. Grzegorz Nalepa a $15,000 grant in 2015. The IU School of Medicine researcher studies how abnormal cell division leads to cancer and if there are ways drugs or other therapeutics can block those pathways. In addition to talking about his work, Dr. Nalepa showed board members a time-lapse video of cancer cells exposed to a chemotherapeutic drug. We were able to see how the drug-exposed cells are trying to divide but are arrested in the middle of cell division by the presence of the drug. Seeing in real life how chemotherapy drugs work on cancer cells was indeed impressive and exciting.
In 2014 the SJP Heroes Cancer Research Fund awarded a $5,000 gift to Dr. Shadia Jalal of the IU School of Medicine. Dr. Jalal told guests how the gift has helped advance her work toward preventing the recurrence of lung cancer in many of the same patients she sees every day as an oncologist.
In 2013 Dr. Rebecca Silbermann of the IU Medical School received $5,000 from the Heroes Foundation to help launch a trial to research the potential for ACE-011, or Sotatercept, to help extend and improve the lives of patients with multiple myeloma. Insider her lab, she showed board members images and answered questions regarding her work and progress.
Next Article
What your Team JOEY LEGO drive really delivers
There you are, all comfortable in your warm office sending emails, leading meetings, doing important stuff. And here we are, asking you to participate in a Team JOEY Corporate LEGO Program. But what does collecting LEGOs really mean? We decided to show you … The drive begins. The Heroes Foundation invites corporations, organizations and individuals […]