A Millennial Approach to Giving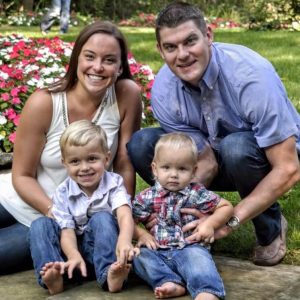 Evan Bedel's two sons probably aren't thinking about their futures. They likely don't know what kind of impact they want to make on the world or how they will prepare for the futures of their families. They're barely out of diapers. But Evan is thinking about it.
As a young father, Heroes Foundation supporter and Certified Financial Planner at Bedel Financial Consulting, he talks fervently about the importance of making philanthropy a priority, at any age. For millennials just starting out in the working world or beginning to raise families, Evan offers advice to make giving a way of life.
Make it matter to you
"Find a cause and purpose that correlates with your passion," he says. Consider what you really care about. What issue or need moves you to think, talk or even get angry? You can do something to make a difference.
When people give for the first time, Evan says, they either have an emotional connection to the organization or have been impacted by a cause. If your church family is important to you, or you feel great empathy for children served by a particular nonprofit organization, for example, that emotional connection is strong. If a relative or close friend was diagnosed with cancer, you adopted a pet from a rescue organization, or your child was born with a developmental disability, a specific cause might drive you to support an organization.
Some people must experience the organization for themselves. They need to get their hands dirty in order to see the impact of giving. Volunteering for an Indianapolis beautification project or food bank can unlock that passion for others and the community.
"No matter what it is, you must have a reason to give. If you don't, it won't be sustainable over the long term," Evan says.
In addition to having a big heart for a cause, you must also be able to follow the financial fundamentals of creating a budget and separating your needs from your wants. If you can't do this, you won't have the wherewithal or ability to give back to anyone.
Once they have the budgeted means to give and a reason or purpose to give, you can begin to answer some tough financial questions such as, "How much should I give?" The rule of thumb is 10 percent of your take-home pay, but everyone is different.  Simply start by making charitable giving part of your budget. The other big one: "How should I give?" If possible, you should give appreciated stock versus cash, Evan says. A financial planner can help guide you through these choices.
Help your children become charitable
"As parents, teaching children about the importance of giving back to others who are less fortunate should be part of their life lessons for building a foundation of values," Evan says. A part of those lessons is also teaching your kids the critical financial fundamentals that every person should have.
Borrowing a strategy from the book The Opposite of Spoiled: Raising Kids Who Are Grounded, Generous, and Smart About Money by New York Times personal finance columnist Ron Lieber, Evan suggests parents set up three jars for each of their children as soon as they earn their first allowance. Label each jar Save, Share and Spend. Talk about the importance of saving money for the future in case their allowance stops (emergency fund), sharing money with others in need who are less fortunate (people or animals), and being able to spend the rest on toys and other entertainment.
"Give your children examples of charitable organizations with which they can share their money, but allow them to pick the organization," he says. If your son loves the Heroes Foundation's Team JOEY program, as an example, let them cover the jar with drawings of LEGO characters to add motivation to their giving.
At the end of every month or so, allow them to physically bring the money to the organization to give them the lasting visual impact of their giving. Also, depending on their age, encourage them to spend a few hours working at the nonprofit to see where their money is going and to meet the people or animals who might be impacted.
Lieber's book uses real-life examples and offers advice on ways to engage in important financial conversations with children between the ages of 6 and 14. Evan's clients are young affluent professionals who are in the wealth accumulation phase of their careers, so he likes to give them this book, if they have children within this age range.
Keep planning and searching for a cause
For people who want to make a tax-deductible gift but have yet to find their passion or cause, they can consider less traditional ways of saving and giving. At Bedel Financial Consulting, Evan can help clients set up a Schwab Charitable Gift Fund, where individuals save into their own personal charitable giving accounts. To start this account, Schwab requires a minimum contribution of $5,000, but every custodian's minimum is different. Since all proceeds are going to charity, Bedel Financial does not charge an investment fee when managing these accounts.
With the Fund, you're able to make a donation (cash or appreciated stock) into an account that grows tax-free until you decide where you want the money to go. You receive a tax deduction in the year you contribute and the investment growth is never taxed.
"For example, if you make a $5,000 contribution this year, you would receive a 2016 income tax deduction for the charitable contribution. Then, you can invest the money to grow for as long as you like. Ten years later, you might find a charity you feel passionate about. At that time, the $5,000 may have grown into $10,000, and you can distribute the entire amount tax-free to your charity of choice," Evan says.
You can make your Fund personal by giving it a special name — the "Harris Family Charitable Fund" or "Bright Path Fund — and at any time you may direct gifts of $50 or more from the account to any public charity. Also, you can gift appreciated stock and receive the deduction on the value, while not paying taxes on the appreciated growth.
You don't have to be a Schwab client to think creatively and responsibly about how you save and give. Talk to your CFP, CPA or other financial advisor to discuss your options.
Giving to a charitable organization isn't something you have to postpone until you are of a certain age. Young people, even those who are just earning their first few dollars of allowance, can start now. Think creatively, save and give to a cause that stirs you. One person can make a heroic impact.
Additional information regarding the Schwab Charitable Gift Fund can be found at schwabcharitable.org. To contact Evan Bedel, email evbedel@bedelfinancial.com or @FinanceIndy.
Next Article
Pros and Cons of Different Types of Charitable Giving
One generous person can make a heroic impact for individuals, families and communities in need, and charitable organizations like the Heroes Foundation help facilitate that impact. Depending on your tax bracket, you may be able to lower your tax bill — possibly significantly — by making a charitable donation. The most common way people contribute […]