2015 Indiana State Road Race Championships and Fishers Criterium
Team Heroes of the Heroes Foundation and First Internet Bank present two-day race series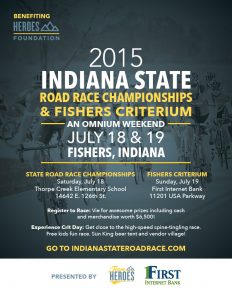 FISHERS, IND. — Registration is open for the 2015 Indiana State Road Race Championships and Fishers Criterium, hosted by Team Heroes. Sanctioned by USA Cycling, the two-day event consists of a multi-loop road race and high-speed criterium, with all proceeds benefiting the Indianapolis-based Heroes Foundation. Presenting sponsors are Team Heroes and First Internet Bank. The event is free for spectators.
"We expect very competitive fields in all events," said Craig Helmreich, Team Heroes member and assistant event director. "With everyone from people trying a road race or criterium for the first time to near professionals vying for prize money, we'll have them all. The Sun King beer tent and vendor village will make Sunday's events great fun for everyone."
July 18, Indiana State Road Race Championships: The Road Race starts on the north end of Geist Reservoir at Thorpe Creek Elementary School (14642 E. 126th St.). Prizes will be awarded in nine race distances/categories and include $2,000 in cash and medals. Road races start between 8 a.m. and 11:30 a.m.
July 19, Fishers Criterium: The Fishers Criterium, run on a closed-circuit short course near I-69 and 116th Street (First Internet Bank, 11201 USA Parkway), includes one roundabout and one hairpin turn, offering a challenge for racers and a spine-tingling spectacle for the rest of us. Eight races ranging from 30 to 75 minutes long will have cyclists vying for prizes worth $2,000 in cash and merchandise.
For the littlest bikers, a 3:10 p.m. free kids race will cover just one lap of the crit course. If you can only catch one race, the juniors race starting at 9 a.m. with bikers ages 13-23 will be insanely competitive and fun to watch. Fishers Criterium races start between 9 a.m. and 3:30 p.m.
Keeping spectators happy, among the participating vendors providing drinks, food and information are Sun King Brewing, the Heroes Foundation, Motion Cycling & Fitness, Rollfast, The Cycle Studio, Team Film, Premier Performance Chiropractic.
July 18-19, Omnium Event: The 2015 Indiana State Road Race Championships and Fishers Criterium is an Omnium event, so prizes will be awarded to riders who register for and excel in three races over the two days: Road Race, Criterium and Mid-Crit Sprint. A prize purse of $2,500 in cash and merchandise will be awarded to Omnium winners.
REGISTRATION: Online registration is open and ends July 16, 10 a.m. Go to IndianaStateRoadRace.com for more information and registration. Riders must preregister for the Omnium ($10 discount off total price) or register on Saturday; there is no Omnium registration on Sunday. Individual race registration fees vary from $20 to $70.
CONTACT: Go to IndianaStateRoadRace.com for more information and registration.
Next Article
Heroes Foundation 2014 Annual Report
INDIANAPOLIS—The Heroes Foundation 2014 Annual Report is now available, providing a review of how the organization furthered its mission in 2014 to provide meaningful support to cancer patients, education to promote cancer prevention and resources to advance research for a cure. "It's an amazing feeling to be celebrating our 15th anniversary this year," writes Vince Todd, Jr., Chairman […]