2015 Annual Report: One Person. Heroic Impact.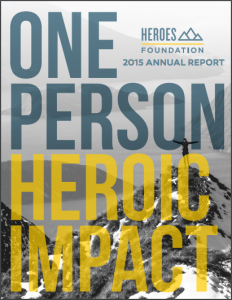 INDIANAPOLIS — We are pleased to introduce the Heroes Foundation's 2015 Annual Report, showing how just one person, organization or business can make an impact on the Central Indiana cancer community.
Click here to read about:
The Jeff and Jona Wells family, and how they connected to the idea of showing "love in a million different ways" as being critical to the cancer patient journey.
Matt King's cancer journey, from a dire diagnosis to an astounding survivor story.
Three researchers the Heroes Foundation is supporting financially as they pursue promising work to improve outcomes for cancer patients.
Indianapolis triathlete and cancer fighter Julie Wood and her inspiring participation in Team Heroes.
Teams from Allegion and Eli Lilly Human Resources directly impacting pediatric cancer patients like survivor Abby Grubbs, and how Abby is paying it forward in a very generous way.
How Sharon Krauter discovered a deep sense of purpose caring for a friend who was fighting cancer.
Plus — meet our team of energetic board members and outstanding sponsors.
You, too, can make an impact. Start by sharing our annual report via social media or email. This one small act can make a big difference. Thank you. (Here's a link to share: http://bit.ly/2arY8OY)
Next Article
$15,000 Gift Helps Lead to $330,000 Grant
How does one foundational Heroes Foundation grant make a larger impact? Consider this latest news from IU Simon Cancer Center. Dr. Grzegorz Nalepa, Assistant Professor of Pediatrics at IU Simon Cancer Center, learned in late July that he is the recipient of a $330,000 leukemia research grant from the St. Baldrick's Foundation. Only nine new St. […]