Events

An Evening With Heroes
The Heroes Foundation's An Evening With Heroes event is our annual gala celebration, where we reflect on the past year's victories and prepare for another year of fighting for the Indiana cancer community. Join us for an evening of dinner, dancing and inspiration. Most important, you will be a hero for the Indiana cancer community.
The 2019 An Evening With Heroes is Saturday, January 26, 2019, at the JW Marriott, Indianapolis. We are excited to feature Sean Swarner. Meet the bold, two-time caner survivor who has climbed the highest mountain on every continent — with one lung. REGISTER ONLINE HERE.
Volunteer Your Time or Donate to the Silent Auction
Sign up to play a heroic role in An Evening With Heroes. We have lots of volunteer opportunities available. We also need generous people to provide items for our always-popular silent auction. Please contact Cindy Todd at ctodd@heroesfoundation.org to learn more.
Become a Corporate Sponsor
We are currently seeking sponsors for An Evening With Heroes. Join the Heroes family of generous corporate sponsors. Click for 2019 Corporate Sponsorship Program.
Reserve your room today!
Why wait? Make sure you don't miss out on reserving a room at the JW Marriott on January 26. Click to reserve.
---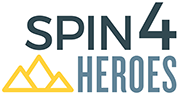 Spin4Heroes
Powered by SBC Wealth Management
Spin4Heroes, powered by SBC Wealth Management, is an indoor relay-style team spinning event. A team captain registers the team, recruits the team members, and then together they raise funds for the Heroes Foundation. Anyone can participate in Spin4Heroes! It doesn't matter if you have never been on a bike, take weekly spin classes, or if you compete on the local/regional cycling circuit. You can work out as hard (or as little) as you want! Remember, the bike is just the vehicle to achieve our end-goal — to provide meaningful support to cancer patients, education to promote cancer prevention and resources to advance research for a cure.
The 2018 Spin4Heroes took place on Sunday, March 11th, at the Community Healthplex! 54 teams participated in this fun event, raising over $75,000!
SAVE THE DATE!!  The 2019 Spin4Heroes will take place on Sunday, March 10th, at the Indiana Farm Bureau Football Center, home of the Indianapolis Colts!
---
Wine Tasting With Peachey
The 2018 Wine Tasting With Peachey event was held on Monday, June 25th at Peace Water Winery in Carmel, IN.  This year's event was a sell-out, had lots of energy, and raised $8,000. Many thanks to everyone who made Wine Tasting With Peachey such a special evening. We will get busy putting the money raised toward important breast cancer research in Indiana!
SAVE THE DATE!!  The 2019 Wine Tasting With Peachey event will take place on Monday, June 17th at Peace Water Winery in Carmel!
---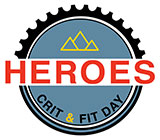 Heroes Crit & Fit Day
The Heroes Crit & Fit Day is an event centered on the Heroes Foundation's summit of cancer Prevention.  It is a day full of activities for the entire family centered on healthy lifestyles and wellness, education on cancer prevention, and some exciting bike racing.
The Heroes Foundation Crit & Fit took place on Saturday, July 28, on a picture-perfect day in Falls Park, Pendleton, IN.
Cyclists from the ages of 9 to 67 years old, took part in the highly competitive Criterium. Hundreds of family members, friends and spectators enjoyed watching the racing and visiting the Fit Festival that included healthy wellness vendors that offered cholesterol and mammography screenings, along with other cancer advocacy groups, food vendors, a children's play area and beer garden.
---
Swing4Heroes
The 2018 Swing4Heroes will be held on Friday, September 28th, at Highland Golf & Country Club.  This year's event will introduce a tennis  instructional clinic alongside the golf pro-am.  See the links to the respective event flyers below for more information.
---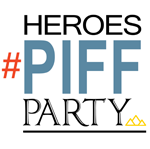 #PIFF Party
The Heroes Foundation's 6th annual #PIFF (Pay It Forward Friday) Party is gearing-up for our biggest and best edition ever! Save the date for Friday, Sept. 28th, from 7pm to Midnight. An expanded Flat12 Bierwerks will once again host the event, with entertainment by Chicagoland's #1 country cover band "Hillbilly Rockstarz", as well as featuring opening act, Indiana's own Brett Wiscons.
Admission is $25 per person, with a portion of both food (Hoagies & Hops) and beer (Flat12) sales coming back to the Heroes Foundation. This is a limited availability event so get your gang together and enjoy this casual Friday night out while paying it forward to further the mission of the Heroes Foundation in our efforts to beat cancer!  CLICK HERE TO REGISTER
---
Heroes Foundation events raise funds and build community around our mission, and present businesses opportunities to be heroes for the Central Indiana cancer community. Summit Sponsorship Packages and à la carte Event Sponsorships are available.