Events

An Evening With Heroes
Thank you to everyone who joined us on Saturday, January 21, for the 17th An Evening With Heroes Gala.  The night was a success, raising nearly $345,000, and fun had by all.
We are already making plans for 2018, so stay tuned!  The date for the 2018 Gala is Saturday, January 20th, 2018, at the JW Marriott Indy!
---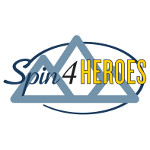 Spin4Heroes
Spin4Heroes is an indoor relay-style team spinning event. A team captain registers the team, recruits the team members, and then together they raise funds for the Heroes Foundation. Anyone can participate in Spin4Heroes! It doesn't matter if you have never been on a bike, take weekly spin classes, or if you compete on the local/regional cycling circuit. You can work out as hard (or as little) as you want! Remember, the bike is just the vehicle to achieve our end-goal — to provide meaningful support to cancer patients, education to promote cancer prevention and resources to advance research for a cure.
Thanks to support from participants, sponsors and volunteers, Spin4Heroes on March 11, 2017, raised a total of $64,000 to back the Heroes Foundation's cancer fundraiser and initiatives around support, research and prevention. Held for the first time at the Indiana Farm Bureau Football Center, 65 teams of four people each took to the turf where the Indianapolis Colts practice. A surprise to all, Coach Chuck Pagano stopped by to encourage the crowd, remind them of the reason behind the spinning, and ride alongside Spin4Heroes fundraisers.
Heroes young and older spun for four hours to show their support of the cancer community, get in a great workout and have fun. They jumped in the bounce house, took photos with a giant Colts inflatable and tossed corn hole bags. Many tested their reaction time on The Batak game (used by Indy 500 drivers), pushed through the Fitlivin obstacle course and ran around on the practice field!
---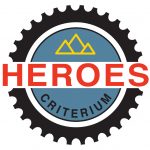 Heroes Criterium
Mark your calendars for the Heroes Criterium! This year's event spans two days and locations: Saturday, July 15, in Pendleton and Sunday, July 16, in Fishers. Sign up for the Heroes Foundation emails (see form in footer below) for updates. Thanks to all who made the 2016 Fishers Omnium weekend (Fishers Crit & Fishers Road Race), presented by Team Heroes and First Internet Bank, a success.  We were blessed with great weather, good cycling action, and a fun atmosphere.  
To enjoy some photos of the event,  CLICK HERE 
---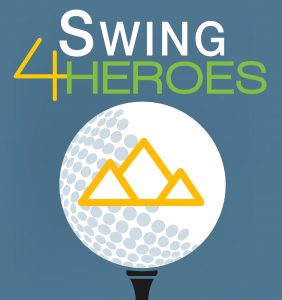 Swing4Heroes
Presented by Felderman Design-Build and Tito's Handmade Vodka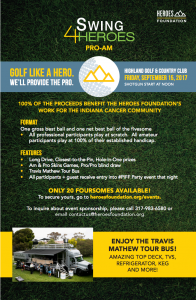 On September 15, 2017, the inaugural Swing4Heroes Pro-Am golf event, presented by Felderman Design-Build and Tito's Handmade Vodka, will pair up a professional golfer with a foursome of golfers for multi-level tournament play. Swing4Heroes will be held the same day as the #PIFF Party, and entry into the evening event is included for every Swing4Heroes participant.  Space is limited though as there are only 20 foursomes available.  Email us at contactus@heroesfoundation.org for more information and/or to reserve your foursome (see Ace Sponsorship in 2017 Sponsorship Package)!  First come, first served.  As of 4/18/17, 16 of the 20 foursomes have been sold.   
---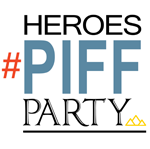 #PIFF Party
Mark your calendar for the 2017 #PIFF Party on September 15!
Thank you for "Paying It Forward Friday" to the Heroes Foundation on September 16, 2016, at Flat12 Bierwerks!
Craft beer, live music from Dave and Rae and good friends came together to support the Indiana cancer community. Flat12 Bierwerks (located at 414 N. Dorman St., Indianapolis) donated a portion of beer sales back to the Heroes Foundation. Next year, get your gang together and enjoy this casual Friday night out while paying it forward to further the mission of the Heroes Foundation.  
---
Heroes Foundation events raise funds and build community around our mission, and present businesses opportunities to be heroes for the Central Indiana cancer community. Summit Sponsorship Packages and à la carte Event Sponsorships are available. Download the Heroes Foundation's 2017 Corporate Sponsorship Opportunities to learn more.