What's Your Cancer Story? The Summits Podcast Debuts Next Week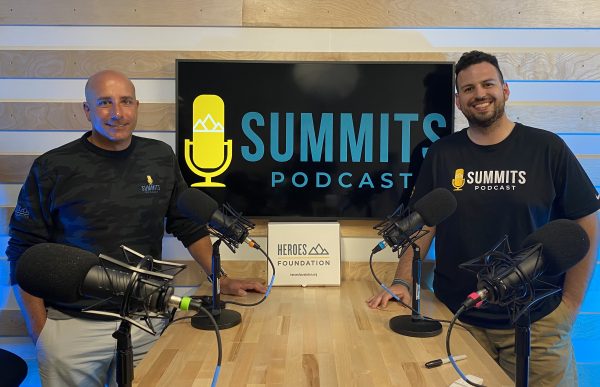 When someone is diagnosed with cancer, the people around them share stories – stories of wisdom, stories of courage, and stories of hope.
It's one of the ways we connect with each other, comfort each other, and encourage each other.
The Heroes Foundation has used events and programs to bring the Indiana cancer community together for the past 21 years.
Now, they plan to do it like never before.
The Summits Podcast, which launches Friday, April 16th, will give them a new platform and a new reach – the world-wide cancer community.
"Because cancer is such a broad and diverse topic, it makes sense," said Vince Todd, Jr., Chairman and Co-Founder of the Heroes Foundation. "We only reach a fraction of the population currently with our events and the research projects and the programs that we're funding. This is another way for us to tell our story via telling the stories of others."
Hosted by Todd and Heroes Foundation Board Member, Daniel Abdallah, the Summits Podcast is a place for people to share their stories – because everyone has a cancer story.
"Whether they are a personal survivor or they've had a sibling or a parent or a child go through the cancer experience – this allows us to share their stories and indirectly share what we do," said Todd. "And if you listen and subscribe to our podcast, you'll come across a very diverse range of guests who will tell their stories. And quite frankly, our first few have found it to be quite therapeutic."
A cancer survivor himself, reaching out to others was something Todd did early on.
"One of the things that my physician had me do when I was a patient was reach out to someone who went through almost an identical experience. I found a lot of value in talking with them," he said. "It's interesting that 21 years later, that is still a key component to treatment – trying to find others who have gone through the same thing and learning from their experience."
It's another way to support the cancer community, not just in Indiana – but everywhere.
"If we happen to talk to someone who went through a certain cancer experience five years ago, ten years ago, even last year – and someone currently battling hears their story and takes away some nugget of wisdom from that, then all the better."
A broad range of topics from a broad collection of guests – from A-listers to Average Joes – the Summits Podcast will focus on all aspects of the cancer experience.
"The conversations may touch on the events, they may touch on the different research projects we're funding, they may touch on one of the support programs we're funding – it all leads back to the Heroes Foundation, but it really comes back to the human experience with cancer and what we all take away from it."
What Todd took away from his cancer experience was a deep desire to make a difference. And this is one more way for him to do that.
"I can tell you personally, the first night of recordings – I was on an absolute high – not due to any foreign substance, but from talking with our first two individuals and hearing them tell their stories and how grateful they were to be able to do so."
The first episode of the Summits Podcast drops next Friday with new episodes bi-monthly. You can watch and subscribe on the Heroes Foundation YouTube channel and download anywhere you get your podcasts.
What's your cancer story?
Share it with us: contactus@heroesfoundation.org.
The Heroes Foundation serves the Indiana cancer community by providing meaningful support to cancer patients, education to promote cancer prevention, and resources to advance research for a cure. To join our mission, go to: https://www.heroesfoundation.org.