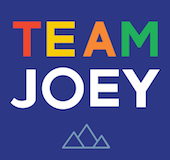 The mission of Team JOEY is to further the battle against pediatric cancer through research and to support young cancer patients with small-but-mighty LEGO bricks, in-hospital parties and more!
On November 22, 2010, 7-year-old Joey Keller (pictured above) was diagnosed with Medulloblastoma, a highly malignant  primary brain tumor that originates in the cerebellum. Joey lost his battle two years later. Joey fought with the spirit and attitude that amazed and inspired family, friends and even caregivers. Those who have been affected in one way or another by Joey banded together to form what is now the Heroes Foundation's Team JOEY program.
For Children Like Piper
Then cancer fighter Piper Lyon (now a cancer survivor!) and her mother Kim Lyon, along with Kelly Canada representing the Heroes Foundation's Team JOEY program, together show you one way the Heroes Foundation carries out this mission of support.
Team JOEY Corporate LEGO Program
The Heroes Foundation invites corporations, organizations and individuals interested in participating in a LEGO drive to help brighten the days of children battling cancer. Your business can serve as a collection spot for LEGOs and/or take up monetary donations to go toward the purchase of LEGOs. For more information in participating, please contact Team JOEY Program Manager Kelly Canada at kcanada@heroesfoundation.org or 317.983.6580 x4006.
Team JOEY Impact!
$10K Provided to pediatric oncologist Dr. Grzegorz Nalepa at the IU School of Medicine to pursue pediatric cancer research in 2017. Nalepa specializes in acute leukemia and rare childhood tumors.
300+ LEGO sets delivered in 2017
1700+ LEGO sets to kidssince 2013
496 People reached through Team JOEY gifts, visits and children's hospital parties in 2017 alone!
The Youngest Cancer Patients Need You
We can't make a difference without generous donors. Please consider making a tax-deductible gift to Team JOEY.
Donate to the Heroes Foundation
Today

.