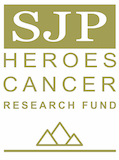 The mission of the SJP Heroes Cancer Research Fund is to make a measurable impact on moving cancer patient care forward by jumpstarting promising research.
Since 2007, the Heroes Foundation has funded the Susan J. Patrick Clinical Fellowship to endow a Clinical Fellowship at the Indiana University Melvin and Bren Simon Cancer Center. The fund was later modified and re-named the SJP Heroes Cancer Research Fund to better represent the Heroes Foundation's interest in providing support to a clinical or research fellow or research project. Income from this endowment supports research in the Division of Hematology/Oncology within the Department of Medicine at the Indiana University School of Medicine (IUSM).
Celebrating Susan. Empowering Researchers.
The SJP Heroes Cancer Research Fund is an endowed fund created in honor of Susan J. Patrick (pictured in yellow shirt), Heroes Foundation co-founder Cindy Todd's mother. She was instrumental in supporting organization co-founder Vince Todd, Jr. during his battle with cancer. A two-time cancer survivor, Susan succumbed to this deadly disease after bravely battling her third diagnosis. This funding opportunity allows Indiana University School of Medicine faculty to recruit promising young physician researchers from around the world to train in an environment that fosters the merging of research and treatment. These researchers not only focus their training on the treatment of specific groups of diseases but also learn to translate laboratory research so that patients benefit from innovative approaches to care. IUSM Fellows participate in collaborative research efforts as well as conduct independent investigations.
$25K Committed to Dr. Safi Shahda
From 2016 to 2018, the SJP Heroes Cancer Research Fund has committed $25,000 to the work of Dr. Safi Shahda at the IU School of Medicine. He is focused on research around what he calls the Achilles heel of the cancer cell: mutations. Learn more about his work to help patients in desperate need of critical drugs.
Research Foci Since 2013
At the heart of the SJP Heroes Cancer Research Fund is hope. From 2013 to 2018, the Fund has supported work focused on making an impact in the following ways:
2017-2018: Recycling and combining older chemotherapy drugs to target specific cancer vulnerabilities (Precision Technology)
2016: Reducing the incidence or progression of cancers
2015: Improving the quality of life of cancer patients in general
2014: Preventing the recurrence of lung cancer
2013: Improving quality of life for bone cancer patients
To Jumpstart Cancer Research, We Need You
We can't make a difference without generous donors. Help the SJP Heroes cancer Research Fund grow with a tax-deductible donation.
Donate to the Heroes Foundation
Today

.