Introducing the Heroes Foundation 2014 Case for Support | 2013 Annual Report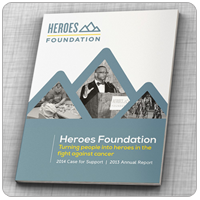 INDIANAPOLIS—The Heroes Foundation has published its 2014 Case for Support | 2013 Annual Report. The report highlights how the Heroes Foundation helps turn ordinary people into heroes in the fight against cancer.
"Since its inception, the Heroes Foundation has raised $1.9 million to support and fight alongside the cancer community in Central Indiana. Our accomplishments in 2013 were phenomenal," writes Vince Todd, Jr., cancer survivor, and chairman and founder of the foundation. "The work of the Heroes Foundation would not be possible without the support of our volunteers and financial sponsors."
The 15-year-old nonprofit organization will use the report as a vehicle to raise awareness of its mission and work, and help raise funds to support its programs in the Central Indiana cancer community. DOWNLOAD IT HERE.
Next Article
ESPN's Shelley Smith to Participate in Heroes Foundation's 15th Anniversary Gala
Diagnosed with breast cancer in October, Smith brings message of early detection to Indianapolis INDIANAPOLIS—The Heroes Foundation is proud to announce that ESPN Reporter Shelley Smith is lending her support to the organization in celebration of its 15th year during the An Evening With Heroes gala on Jan. 17, 2015. On Oct. 1, 2014, Smith […]