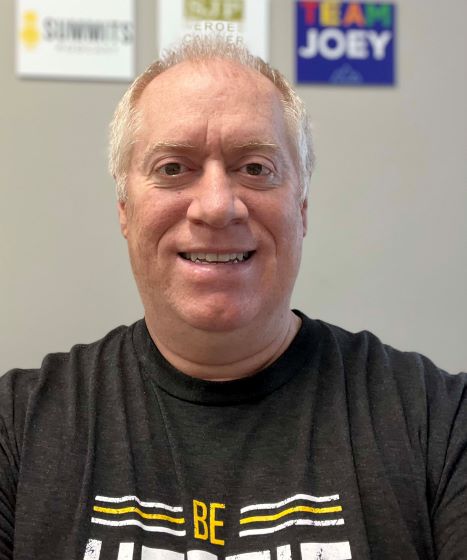 INDIANAPOLIS—The Heroes Foundation is pleased to announce that Scott Mingle has joined the team as Program & Event Manager for Project Militia and Fit4Heroes. Mingle was most recently the Sr. Director of Sports & Competition for Special Olympics Indiana, where he worked for 18 years.
"Scott has a ton of experience with one organization putting on massive events affiliated with physical fitness," says Vince Todd, Jr., Heroes Foundation Chairman and Co-founder. "He is mission driven and focused on doing good. Plus, he has strong ties to Indianapolis and Indiana as a whole. We expect Fit4Heroes to expand across the state, and Scott is the right person to lead this effort."
Mingle comes to the Heroes Foundation in part because of his own experiences. Both of his grandmothers passed away from cancer, and his father is a cancer survivor, but the cancer diagnoses of friends were the real impetus.
"A good friend in my running club whom I'd known at least 15 years beat cancer twice. The third diagnosis came right in the middle of the pandemic. It was brain cancer, and it was inoperable. He got to the point where he didn't need hospice, but he needed someone with him 24/7," Mingle says.
He and his fellow runners took turns staying with their sick friend around the clock. They cooked, cleaned and took him to doctor's appointments. After a long battle, he passed away in 2020.
Recently, one of Mingle's college buddies who is like a brother to him was diagnosed with an aggressive form of cancer. These friends' stories have led Mingle to dedicate this phase of his career to supporting the Indiana cancer community through the Heroes Foundation.
"Fitness has always been part of my psyche. The push to encourage healthy lifestyles to fight cancer made this role especially appealing to me," Mingle says.
About Fit4Heroes and Project Militia
What began in 2010 as Spin4Heroes developed into Fit4Heroes, where cancer fighters of all ages, near and far, get active in support of Hoosiers affected by cancer. Heroes' vision for Fit4Heroes is to take it statewide and partner with more Indiana institutions.
The mission of Project Militia, the second program that Mingle will spearhead is to educate people on the power of cancer prevention, a key part of the Heroes Foundation's mission.
Following Mingle's resignation from Special Olympics Indiana, the organization published a glowing tribute on its Facebook page:
"Mingle was the driving force behind all statewide sports events including Summer Games, the largest annual competition with more than 2,000 athletes participating this year. In 2011, Scott helped start Eunice Kennedy Shriver Games in Indiana, and he fostered the event's growth through the years from a single-day event to a multi-week, multi-venue fall series. He has also served as part of Team Indiana during four USA Games and represented our program at four World Games, including in 2019 in Abu Dhabi."
About the Heroes Foundation
The Heroes Foundation serves the Indiana cancer community by providing meaningful support to cancer patients, education to promote cancer prevention, and resources to advance research for a cure. The organization was co-founded by cancer survivor Vince Todd Jr. and his wife Cindy Todd in 2000. For more, visit heroesfoundation.org.