2017 Spin4Heroes Wrap-Up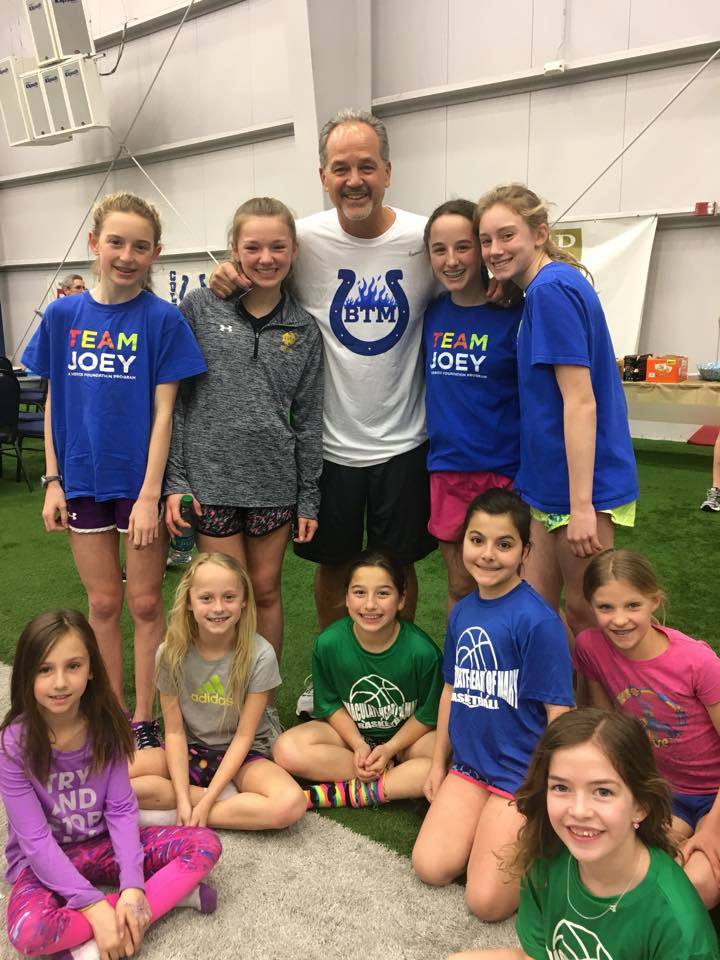 Thanks to support from participants, sponsors and volunteers, Spin4Heroes on March 11, 2017, raised a total of $64,000 to back the Heroes Foundation's cancer fundraiser and initiatives around support, research and prevention. Held for the first time at the Indiana Farm Bureau Football Center, 65 teams of four people each took to the turf where the Indianapolis Colts practice. A surprise to all, Coach Chuck Pagano (pictured) stopped by to encourage the crowd, remind them of the reason behind the spinning, and ride alongside Spin4Heroes fundraisers.
Heroes young and older spun for four hours to show their support of the cancer community, get in a great workout and have fun. They jumped in the bounce house, took photos with a giant Colts inflatable and tossed corn hole bags. Many tested their reaction time on The Batak game (used by Indy 500 drivers), pushed through the Fitlivin obstacle course and ran around on the practice field!
"There was great energy the entire day. We are genuinely psyched for next year, and already have new ideas to make the eighth annual Spin4Heroes event in 2018 even better," said Vince Todd, Jr., Chairman and Co-Founder of the Heroes Foundation.
2017 SPIN4HEROES WINNERS
Fundraising Competition
Top Fundraising Team – Breakin' the Law – $6,590
2nd Place Fundraising Team – Team Van Rooy – $4,460
Mileage Competition
Top Male Team – Audrey's Rules – 283.6 miles
Top Female Team – In for a Spin – 123.75
Top Co-Ed Team – Breakin' the Law – 381.5
Spirit Award
No Ragrats (We love this spelling!)
SPIN INSTRUCTORS
Thank you for our volunteer spin instructors who kept the energy high all day.
Lynn Marshall, Peak Performance
Molly Tittle, MFitness
Lisa Herrmann, Lifetime Fitness
Laurel Hess, Monon Community Center
Sharon Phillips, Lifetime Fitness
TJ Hall, LA Fitness
SPONSORS
We are grateful to our sponsors, giving generously and like heroes.
Tour-Level Sponsor
Accessa
Stage-Level Sponsors
Lilly Oncology
AcromaPro
Healthcare Products Delivery
The Brookfield Group
Scopelitis Garvin Light Hanson & Feary
Prologue-Level Sponsors
Bedel Financial
The Brauer Family Foundation
OurHealth
Bose McKinney & Evans
eImagine Technology Group
Moser Consulting
The caregivers and researchers of the IU Simon Cancer Center
Van Rooy Properties
Vesalius Health & Sport
Avalon Dentistry
Taft, Stettinius, & Hollister
In-Kind Sponsors
Motion Cycling & Fitness
Harding Poorman
Indianapolis Fruit
Pepsico
Markey's Rental & Staging
Big Apple Bagel
Indianapolis Colts
Community Healthplex
Chick-fil-A
Delta Faucet
Eli Lilly
Cyclebar – Carmel
Gray Goat Sports
Marsh
Next Article
Program & Event Manager: We Are Hiring
The Heroes Foundation is hiring. Are you a fit for our Program & Event Manager position? JOB DESCRIPTION Program & Event Manager The Heroes Foundation exists because of people who confronted cancer and fought the good fight. The spirit, determination, and commitment of these people to survive are the legacies and characteristics that spurred the […]