FORT WAYNE, IND.—Not all healing is about medicine. A little girl's selfless birthday wish helped heal the spirits of cancer patients at Lutheran Children's Hospital on June 12 during a very special Heroes Foundation visit.
Lutheran Children's Hospital patient Abby Grubbs recently finished 2.5 years…
INDIANAPOLIS—The Heroes Foundation, a nonprofit organization that serves the Central Indiana cancer community, announced today that eight new members have been selected to serve on the organization's Board of Directors. The new members include two cancer survivors, two physicians, a lawyer, experienced nonprofit organization…
INDIANAPOLIS—Being a hero against cancer can start with prevention. Supporting its mission to educate the Central Indiana community on healthy living and cancer prevention, the Heroes Foundation presents this simple handout to help people be strong for their families, friends and selves. By making healthy choices,…
Diagnosed with breast cancer in October, Smith brings message of early detection to Indianapolis
INDIANAPOLIS—The Heroes Foundation is proud to announce that ESPN Reporter Shelley Smith is lending her support to the organization in celebration of its 15th year during the An Evening With Heroes…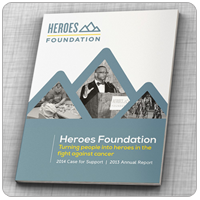 INDIANAPOLIS—The Heroes Foundation has published its 2014 Case for Support | 2013 Annual Report. The report highlights how the Heroes Foundation helps turn ordinary people into heroes in the fight against cancer.
"Since its inception, the Heroes…
INDIANAPOLIS—Team JOEY, a program of the Heroes Foundation, awarded Dr. Karen Pollok of the Herman B. Wells Center for Pediatric Research at Indiana University Simon Cancer Center and the IU School of Medicine $40,000 to advance progress toward a cure for brain cancer in…